Hilary moves north past San Diego in a wet, blustery exit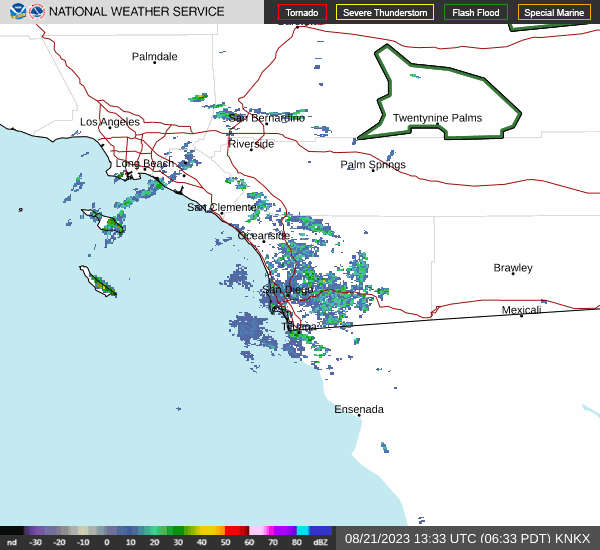 The storm dropped more than 6 inches of rain on Mount Laguna and generated 84 mph winds at Big Black Mountain, the kind of hit that usually occurs in winter
A steadfast tropical storm named Hilary left an indelible impression on San Diego County Sunday, toppling trees, shifting boulders, flooding intersections and canceling airline flights with winds and rain that are more reminiscent of winter than summer.
The center of the storm also arrived sooner than expected, moving through San Diego between roughly 2:30 p.m. and 3 p.m. before curving away toward Palm Springs, the National Weather Service said. Forecasters, who thought Hilary might show up around 6 p.m., will reconstruct her precise path over the next couple of days.

For the record:
6:58 p.m. Aug. 21, 2023An earlier version of this story mistakenly said the rain fell at the rate of 1 inch per minute in parts of the county. It should have said 1 inch per hour.
4:13 p.m. Aug. 20, 2023An earlier version of this story incorrectly identified Big Black Mountain as Big Bear Mountain.
Update:
6:03 p.m. Aug. 20, 2023NWS says that the center of Hilary passed through San Diego between 2:30 p.m. and 3 p.m. on Sunday.
12:58 p.m. Aug. 20, 2023NWS says 'life-threatening' flash flooding could occur in East County through 2:30 p.m.
11:41 a.m. Aug. 20, 2023NWS warns that Hilary could spawn tornadoes in San Diego County on Sunday afternoon.
Hilary made initial landfall south of Ensenada, Mexico, about 11 a.m. Sunday. That weakened the system considerably. But the first tropical storm to directly hit the city in more than 80 years was still robust and was lashing the coast with high winds during the dinner hour and was expected to roil the skies until early Monday.
All of this led the San Diego Unified School District — the largest in the county — to delay its first day of school Monday, with students starting on Tuesday. And San Diego Mayor Todd Gloria declared a state of emergency, a move that enables the city to acquire state and federal disaster resources, if needed.
President Joe Biden said he spoke with Gov. Gavin Newsom Sunday about emergency preparedness measures in place and will continue to be briefed on the storm's impact. FEMA personnel, supplies and U.S. Coast Guard aircraft have been pre-positioned to respond as necessary.
"My Administration stands ready to provide additional assistance as requested," Biden said in a statement released by the White House. "I urge people to take this storm seriously, and listen to state and local officials."
Most people didn't know quite what to expect Sunday when they woke up. Comparatively few have experienced a tropical storm. And such systems usually curve west and die over cooler water long before they reach the Baja California peninsula.
But Hilary kept jogging north-northwest and quickly established cred, producing sheets of rain and wild winds that caused dry stream beds to come to life and made kites out of lawn chairs.
Most coastal cities got more than an inch of rain by 7 p.m., and it was still coming down, while the inland valleys got 1.5 to 2 inches. Mount Laguna recorded more than 6 inches of precipitation by dark — moisture that could delay the start of wildfire season.
In its own way, the figure at San Diego International Airport was even more impressive: 1.06 inches. The airfield averages 0.01 inches during the entire month of August. The mere threat of heavy rain and fierce winds approaching the airport led to the cancellation of more than 200 flights Sunday.
Hilary's winds also were impressive, regularly blowing 40 to 60 mph through many parts of the county and gusting to 84 mph at Big Black Mountain near Ramona.
By the dinner hour, Hilary had not caused a major incident. But it got everybody's attention, especially between roughly 2:30 p.m. and 4 p.m.
Heavy rains caused flooding on stretches of state Route 94 and parts of Interstate 5 and Interstate 8. DoorDash announced it was suspending food deliveries until Monday due to the rain. The weather service said that boulders loosened by downpours were rolling in Julian. Then it issued a tornado warning for the Alpine area.
It was the second heart-stopping announcement of the day.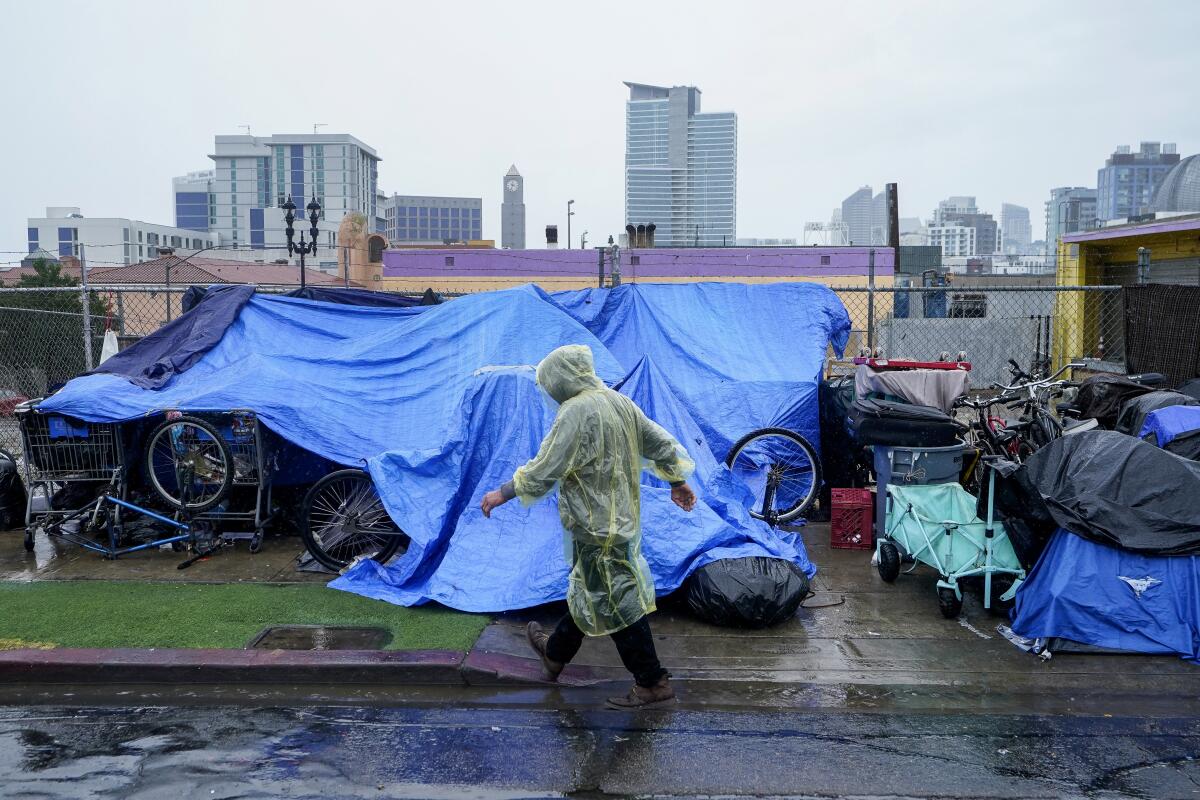 Around noon, the weather service said that Hilary posed a "life-threatening" danger in much of East County where rain was falling at the rate of an inch a minute in some areas.
No fatalities were reported by the time the warning expired at 2:30 p.m. But it created anxiety at a time when TV forecasters were showing ominous graphics and repeatedly saying the Southern California was going to get whacked.
In In-Ko-Pah, moving boulders blocked several lanes on Interstate 8, forcing lane closures and one-way traffic control, the California Highway Patrol reported. Runoff also appears to have caused a mudslide near Julian that closed the southbound lanes of state Route 78 near Banner Drive, authorities said. At Sunset Cliffs, dirt runoff turned the sea chocolate-milk brown.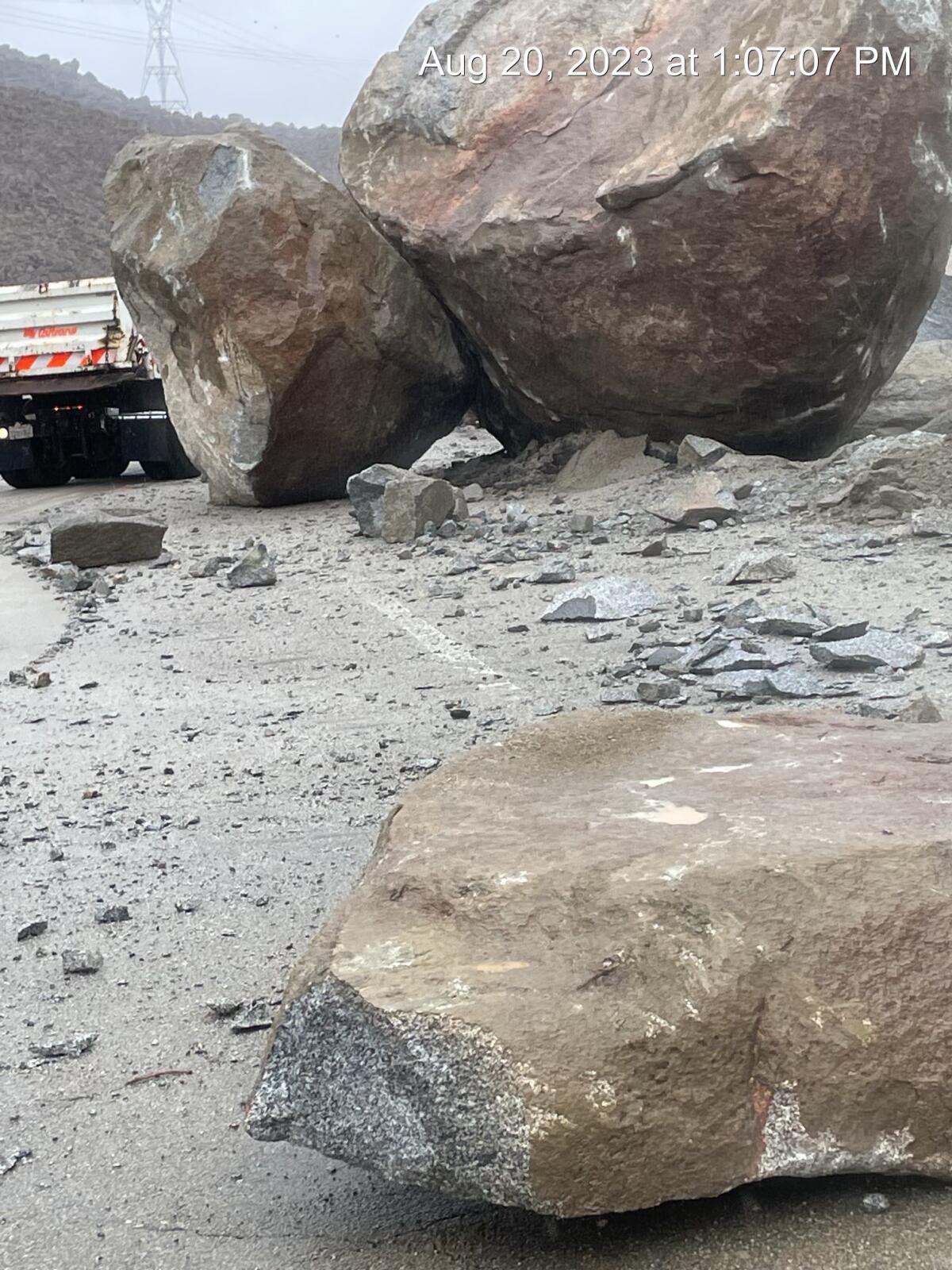 Despite the mud, trees and boulders on some highways, CHP Officer Mark Latulippe said incidents were similar to that of a normal rainy day.
"I think a lot of people have chosen to stay home and avoid travel, which is helping," he said.
Even so, many churches told their parishioners and volunteers to stay home Sunday, offering live-streamed services instead. Roads were unusually quiet, even for a Sunday, and some businesses decided to close early.
The winds appear to have contributed to some of the roughly 2,000 power outages reported by San Diego Gas & Electric.
In University City, a large eucalyptus tree fell on a two-story condo complex near La Jolla Colony Park about 5:30 p.m. Three residents were displaced, but no one was injured, said San Diego Fire-Rescue Battalion Chief Matt Nilsen.
After 8 p.m., swift water rescue crews had to help about a dozen people in a homeless encampment trapped by rising waters of the San Diego River in the Morena area.
Hilary first hit the coast in a sparsely populated area about 150 miles south of Ensenada.
The storm has already caused flooding along the length of the Baja California peninsula, and torrential rains threatened mudslide-prone Tijuana, where improvised houses cling to hillsides just south of the U.S. border.
Mexican President Andrés Manuel López Obrador reported moderate damages in Baja California as of Sunday afternoon.
In Tijuana, government officials were asking residents to remain indoors as the storm continued to pass and urged people in precarious areas to relocate. As of Sunday afternoon, about 60 people had gone to shelters set up throughout the city, said Gerardo López, Tijuana's secretary of social welfare. There was still capacity for about 260 people more.
"We are still in a state of pre-alert, and we will be ready to respond to any emergency," said the Secretary of Government Miguel Angel Bujanda.
Crews throughout the Mexican state responded to a mix of traffic crashes, downed power lines, power outages, fallen trees and water rescues Sunday. At least one person died in a car crash believed to be weather-related. And two people were rescued by firefighters when they tried to cross a fast-flowing stream in the Monzón canyon.
Late Sunday, video footage shared by officials in Rosarito showed a stretch of highway between Tijuana and Rosarito transformed into a muddy, roiling river.
The Mexican Army deployed 90 soldiers to patrol the streets or to help with the removal of debris should landslides occur.
Farther south in Baja California Sur, one person drowned Saturday in the Mexican town of Santa Rosalia when a vehicle was swept away in an overflowing stream.
Such storms are a rarity in that part of Baja California. But it's possible it won't be the last to occur this year. The National Hurricane Center on Sunday reported that a tropical depression may be coming to life of the southwest coast of Mexico, in the same general area that Hilary did.
Rainfall totals through 7 p.m.: Mount Laguna, 6.82 inches; Ranchita, 4.72 inches; Lake Cuyamaca, 4.06 inches; Mount Woodson, 2.11 inches; Santee, 1.86 inches; Otay Mountain, 1.99 inches; Miramar Lake, 1.66 inches; Poway, 1.55 inches; Escondido, 1.53 inches; Carlsbad, 1.45 inches; Oceanside, 1.32 inches; Kearny Mesa, 1.30 inches; San Diego International Airport, 1.06 inches; Encinitas, 1.00 inches; Chula Vista, 0.94 inches.
Staff writers Tammy Murga, David Hernandez, Alexandra Mendoza, David Garrick, Abby Hamblin, Lyndsay Winkley and Phillip Molnar, as well as the Associated Press, contributed to this report.
Updates
9:25 a.m. Aug. 20, 2023: Updated Hilary's position.
3:01 p.m. Aug. 20, 2023: Updated wind and rain information.
1:32 p.m. Aug. 20, 2023: Rains from Hilary causing mud slides and road closures in East County.
12:23 p.m. Aug. 20, 2023: Updated rainfall figures.
10:49 a.m. Aug. 20, 2023: New rainfall totals.
9:59 a.m. Aug. 20, 2023: Updated forecast information.
9:25 a.m. Aug. 20, 2023: New rainfall and wind gust figures.