San Diego will get hit Sunday by the type of storm few Southern Californians have ever seen
Forecasters say Hilary could cause 'potentially catastrophic' flooding and wind damage. The storm's eye is expected to reach San Diego between 3 p.m. and 6 p.m. Sunday.
A tropical storm that formed off Mexico less than a week ago and turned into a beast will come ashore Sunday in San Diego County with enough rain to flood a region best known for sunshine and drought.
Hurricane Hilary sped up a bit early Saturday and hit cooler water off Baja California, causing it to weaken. It was expected to be a tropical storm by early Sunday. The comma-shaped system is about 500 miles wide and filled with almost indescribable moisture.

Update:
9:24 a.m. Aug. 20, 2023Gov. Newsom announces a state of emergency for much of Southern California.
"We've seen things like this here only a few times in history," said Liz Adams, a forecaster at the National Weather Service in Rancho Bernardo. "The rate of rainfall in the desert could be 2 to 3 inches an hour. That's life-threatening."
In a story that has the feel of Hollywood, Hilary will spread out across Southern California, delivering torrential rains in a region that gets worked up by drizzle, as comedian Steve Martin smartly observed in the movie, "L.A. Story." And it will play out live on the Weather Channel.
San Diego, which last took a direct hit from a tropical storm in 1939, when Franklin Roosevelt was president, is center stage.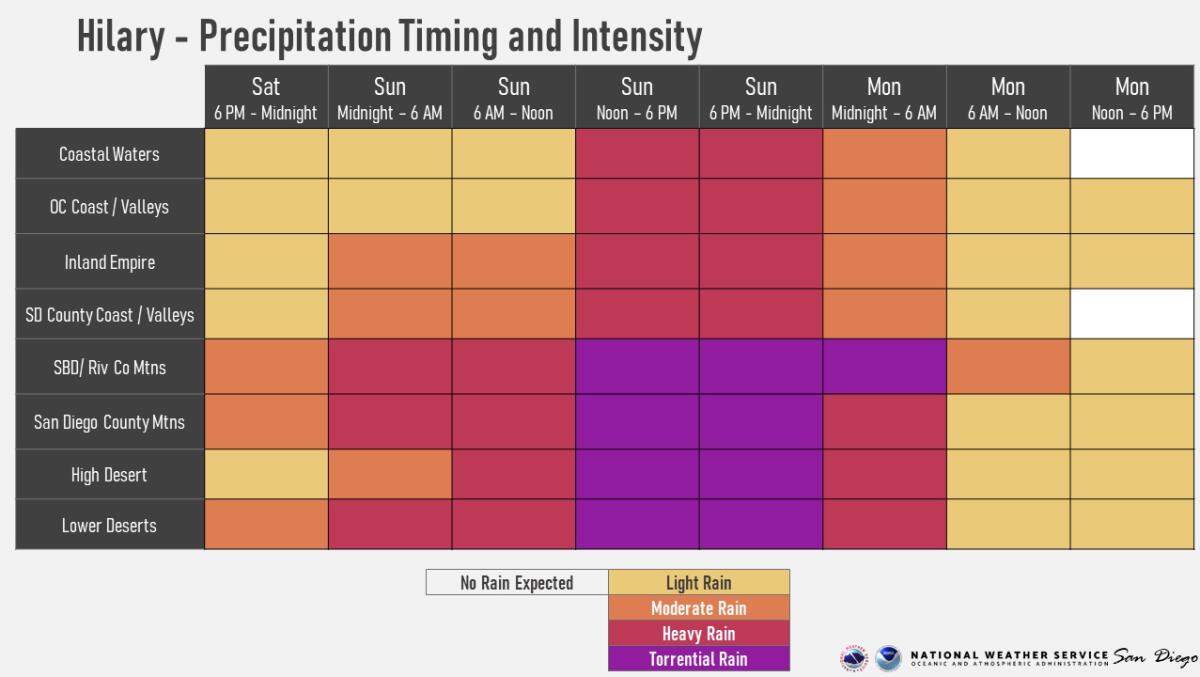 Forecasters say the eye of Hilary will drift across the county between 3 p.m. and 6 p.m. Sunday. It will be preceded earlier in the day by 40 mph to 80 mph winds that will yank on power lines during what is typically the most tranquil month of the year.
By the time it blows away, Hilary will have dumped 1.5 to 2 inches of rain at the coast, 2 to 3 inches across inland valleys, 5 to 10 inches in the mountains — with 12 inches in some spots — and 5 to 7 inches in the desert, according to forecasts. San Diego averages 0.01 inches in August, barely enough to moisten the bottom of a tea cup.
Few institutions are betting that forecasters are wrong.
Gov. Gavin Newsom announced a state of emergency for much of Southern California to help organize and deploy emergency workers, as needed.
Commercial airlines collectively canceled 242 flights scheduled for San Diego International Airport on Sunday, according to FlightAware, which tracks airline traffic.
The City of San Diego said it will close all public facilities — including city libraries, recreation centers, pools, beaches and parks — both Sunday and Monday. City facilities will open Tuesday, weather permitting. Torrey Pines, Balboa and Mission Bay golf courses will also be closed both days.
California State Parks said it will temporarily close all state parks and beaches, including campgrounds.
And the Navy sent about 10 warships to sea from San Diego Bay to ride out the storm and make them better able to lash down dozens of other ships that were left behind. It's the kind of shift that's never occurred in San Diego, home to nearly 60 warships.
The vessels included the carriers USS Nimitz and USS Theodore Roosevelt, two of biggest ships in the Navy, and the destroyer USS Halsey, which leaned on its horn to chase civilian boaters out of its path.
The warships headed north of the Channel Islands while local shipyards literally battened down the hatches.
That seemed prudent after Hilary gave the region a preview of what could happen.
In the pre-dawn hours Saturday, the outer bands of the storm flowed into the region's deserts, sparking an estimated 1,000 cloud-to-cloud lightning flashes, the weather service said. A single bolt hitting the ground is often enough to start a wildfire.
"In my 65 years I've never seen this many flashes," said Scott Lipscomb, a San Diego State University music professor who watched from his home in La Mesa. "It was almost non-stop during the five minutes I watched."
Forecasters haven't taken their eyes off Hilary, partly because the storm is "front loaded." That means that most of its moisture is located at the leading edge of the system, amplifying rainfall.
The weather service also was concerned by something else on Saturday as forecasters sat in front of the glow of computers in a non-descript office park. The winds will be severe, and they won't all blow in the same direction. Some will arrive from the east, pounding the mountains and deserts. Some will arrive from the south, raking the coast.
At times, people won't know which way the wind is really blowing.
In an unintended bit of understatement, forecaster Alex Tardy said, "It could seem confusing."
Union-Tribune reporter Caleb Lunetta contributed to this story.
Updates
9:24 a.m. Aug. 20, 2023: Airline cancellations updated.
9:24 a.m. Aug. 20, 2023: Added new rainfall forecast.
9:24 a.m. Aug. 20, 2023: New wind projections added, along with more guidance about the nature of the storm.