Tropical Storm Eugene might trigger thunderstorms in San Diego County later this week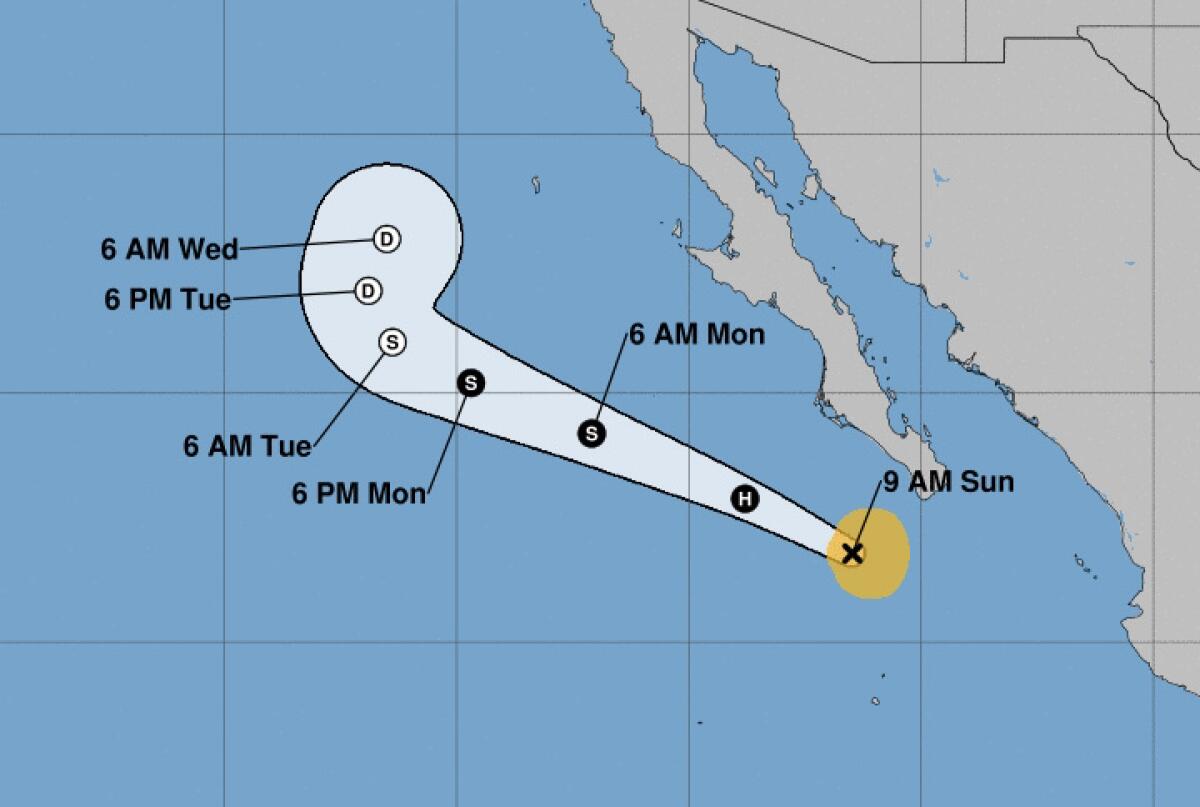 The system has moved west of Baja California and will soon weaken, but not before flinging moisture toward Southern California.
A tropical storm that's churning west of Baja California could throw off enough moisture to trigger thunderstorms later this week across San Diego County, according to the National Weather Service.
The system, known as Eugene, produced winds up to 70 mph Sunday about 800 miles south of San Diego. The gusts fell just short of reaching the 74-95 mph range, which would have made the system a Category 1 hurricane.
"Eugene is going to weaken pretty quickly," said Miguel Miller, a weather service forecaster. "But it could send us a lot of moisture that could produce cloud cover or cause thunderstorms here on Wednesday and Thursday."
Forecasters also said that Eugene could send elevated surf into northern Orange County, but that it wasn't likely to have much affect on wave heights in San Diego County. However, energy from the system could produce long shore currents that can pose a threat to inexperienced swimmers and surfers locally.
Separately, the weather service said that winds will gust out of the west at 40 mph to 60 mph on Monday afternoon and evening in San Diego County, causing challenging driving conditions for motorists on Interstate 8, along the border of Orange and Imperial counties.
There was an excessive heat warning issued until 8 p.m. Monday for the San Diego County deserts, with temperatures expected to reach as high as 111 degrees. Highs were expected to reach between 88 and the low 90s in the valleys and foothills.
City News Service contributed to this report.
Updates
8:36 a.m. Aug. 7, 2023: This story was updated with new forecast information.