The Compass Station marks first anniversary of helping the unsheltered in Pacific Beach
Everybody has opinions on the complicated issue of homelessness in San Diego, but only some are actively working to solve it.
The Compass Station, at 1004 Chalcedony St. in Pacific Beac, is Shoreline Community Services' response to the ever-pressing problem of how to effectively provide resources for those who are unhoused in the San Diego Central Beach community.
The station is an unassuming building that, just last year, was renovated into a bustling hub for those who are unsheltered and needing assistance.
The station provides primary resources such as laundry, showers, computers and device charging stations; clerical services like drivers license and ID assistance; mental health and substance abuse services; and housing assistance. There is also an on-site nurse for at least two hours every day.
Want to visit?
The Compass Station



Where: 1004 Chalcedony St., Pacific Beach



Hours: 10 a.m. to 4 p.m. Monday to Friday


Phone: (858) 900-7024


Website: shorelinecs.org
Caryn Blanton, director of Shoreline Community Services, said the Compass Station is the largest of Shoreline's three main programs. The station provides drop-in resources for the unhoused Central Beach community, consisting of Mission Beach, Pacific Beach and La Jolla.
"We are laser-focused on this part of the neighborhood," Blanton said.
According to Blanton, one year ago there were no services or resources for the unhoused in the beach areas, despite there being many people there who would benefit from them.
The station "takes out a whole barrier. … It's one step closer to getting off the street," Blanton said. "There's no other community that's doing what we're doing. If we think this is important, we're going to have to do something."
Blanton, along with two part-time employees and up to 30 volunteers, are working hard to ensure the station's guests get the resources they need.
"They come here, we know their names," Blanton said. "We practice radical hospitality here."
In addition to hospitality, station officials insist on accountability. It's all about setting goals and accomplishing desired outcomes.
Blanton said creative solutions are what led her to the idea of creating the station, which she said is unique compared to other programs in San Diego to help with those who are unhoused.
"You can't get in the door without us knowing what you need," Blanton said. Every guest is asked to fill out a detailed questionnaire, which includes what he or she wants to accomplish from visiting. For some that may be a shower or load of laundry, while for others it may mean using the computers to apply to a job, or perhaps see a nurse or mental health professional.
The Compass Station, which opened in May 2022, has seen much success in its first year of existence.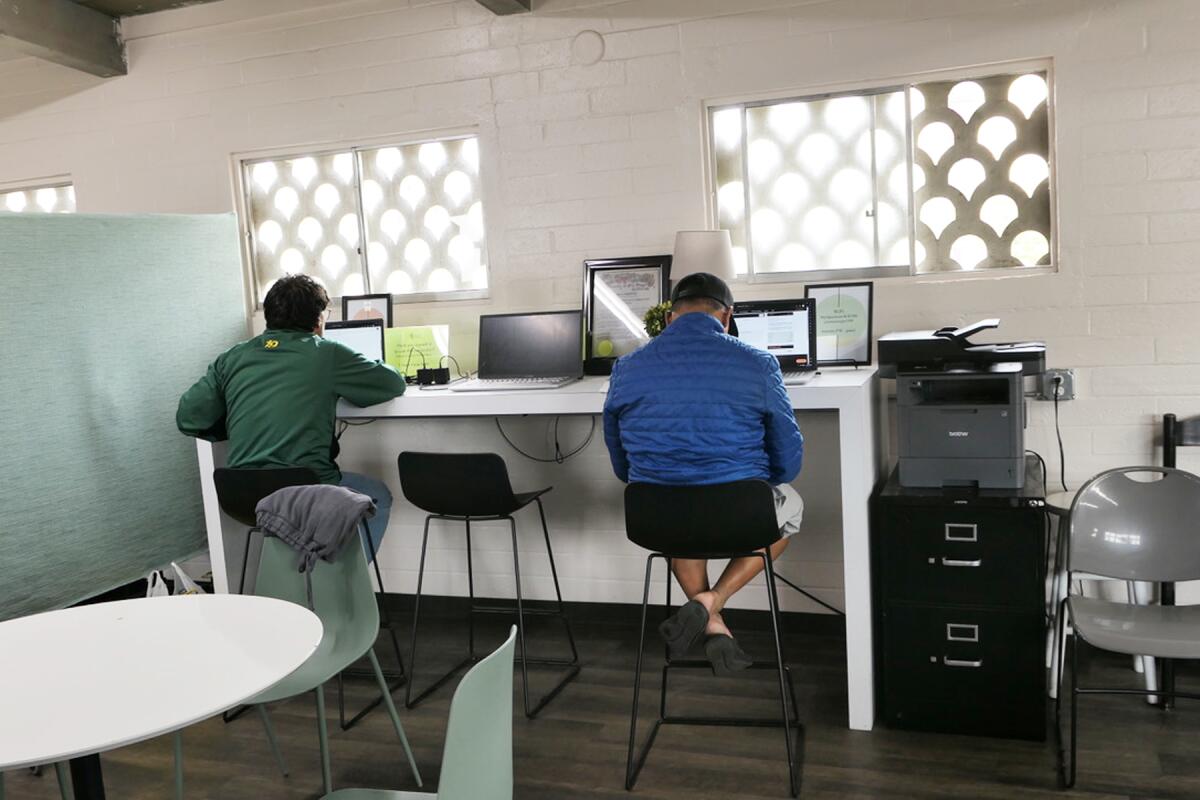 In April alone, the station had 464 guests. Of them, 41 saw a nurse, 20 received identification cards or birth certificates, 14 were connected to San Diego County benefits, 11 were connected to mental health services, 10 got into the housing system and one was reunited with family.
From June to December 2022, there was 3,372 guest visits. Of these at least 105 received county benefits and veteran's services, 61 got medical benefit connections, 173 showers and haircuts provided, 889 loads of laundry completed, 89 documents recovered, 152 mail services were utilized, 188 provided nurses appointments, 28 bus passes provided, seven families were reunited, 88 guests received connections to housing services and nine people were housed, according to Shoreline's website.
Blanton estimated that about 50 percent of the visits are from returning guests, but the station also sees many new guests, approximately two to four each day.
"We want to create relationships with people. We want to build trust," she said.
The Compass Station was initially made possible by grant money from the Lilly Endowment Inc., as well as assistance from the County and City of San Diego. However, by far, the most money received last year was from individual donors.
Marking its first anniversary, a Black Tie Bingo fundraiser was held in April that raised over $20,000 through ticket sales and prizes donated by local businesses.
There is an upcoming fundraiser at Maverick's in Pacific Beach. "A Mad Hatter Twisted Tea Party" will be held from 5 to 8 p.m. Thursday, July 20. More details to be announced soon.
A second annual kickball tournament is also being planned for October.
"People are starting to pay attention," Blanton said, "I feel that the community has been really encouraging."
Shoreline Community Services is preparing to start a new employment program in July called Community Care Crew. Shoreline has raised over $160,000 for the program, thanks to community partners, faith-based organizations, local businesses, San Diego County, the Parker Foundation, Lucky Duck Foundation and individual community members.
Participants will perform temporary jobs, such as graffiti removal, street cleaning, light janitorial and custodial work, event set up and take down, and other similar tasks.
It "gets them back in the game," Blanton said. Shoreline is "not just offering employment but also individual case management."
Similar to The Compass Station, this new employment program will help participants plan for the long-term, with job readiness training, career counseling and ultimately the goal is to place participants into permanent jobs.
"We want to see you moving forward," said Blanton when speaking about how she approaches those accessing the station's services. "When you walk in ... I'm going to ask you what your next move is. We're going to help you with your next move, and we're going to hold you accountable."