San Diego wants to slash 90% of natural gas from all buildings by 2035 — but what's the price tag?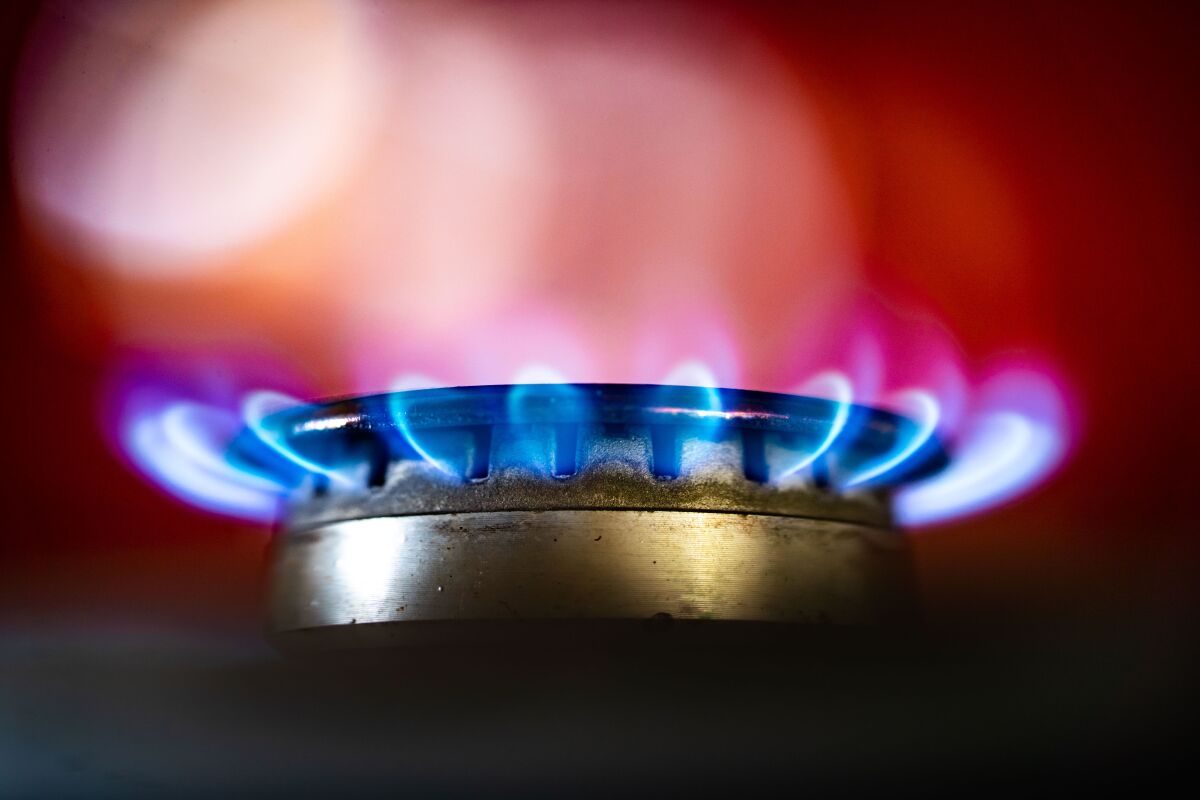 The city of San Diego's Climate Action Plan for buildings would include existing homes.
The city of San Diego has laid out ambitious goals to slash natural gas usage in buildings — even in existing homes — within the city limits in the coming years.
How much it will cost is still to be determined but the first steps toward figuring out how to get there are being made.
In the coming months, an analysis of all the buildings within the city limits of San Diego is scheduled to be completed. The inventory will break down the respective percentages of commercial, industrial and residential structures.
"What we're doing first is figuring out and confirming some of our assumptions that we generally know but really want to make sure are confirmed ... and then we'll go from there," said Shelby Busó, the city's chief sustainability officer.
City officials are also developing a road map to see "what are the policies and programs that are going to be the most cost-effective and that are actually going to be implementable by industry and by residents," said Randy Wilde, senior policy adviser in the office of Mayor Todd Gloria.
Reducing natural gas use in buildings is just one piece of the city's Climate Action Plan, which looks to reach net-zero emissions targets by 2035 by various means, such as policies that encourage urban density and reduce the number of miles traveled by cars and trucks.
The San Diego City Council voted 8-0 last summer to not only eliminate natural gas hookups for all new construction but cut natural gas in existing buildings by 45 percent by 2030 — and then phase out 90 percent of natural gas in all buildings in the city by 2035.
"It will require an enormous effort on the part of the City and its citizens and should remain a major focus of implementation planning going forward," the city's Office of the Independent Budget Analyst said in a report released in July 2022. The office did not give a dollar estimate.
City officials are looking at San Diego-owned municipal buildings such as libraries, recreation centers and city buildings to get a handle on the potential costs of phasing out natural gas.
"We're doing a complete electrical analysis of all of our buildings presently, with a third-party contractor to see, OK, what is the natural gas that we're using in our buildings?" said Alyssa Muto, director of the city's Sustainability and Mobility Department. "What can be phased out and how much would that approximately cost?"
The idea is to take the lessons learned from transitioning city-owned buildings, apply them to the "reach code" that bans natural gas in all new building construction and then build on all those lessons before tackling how to retrofit existing businesses and residences.
"The cost is something I think that comes in time as we continue to unfold this road map," Muto said.
City officials pointed to some of the economic benefits of the plan, citing studies that say all-electric homes can lower total utility bills. Lifetime savings for new construction, one report said, can range from $130 to $540 per year.
About 905,000 customers in the San Diego Gas & Electric service territory have natural gas hookups. That number includes communities outside the city limits of San Diego but it gives some sense of the scope involved in converting homes from gas to all-electric.
City officials say they will scour the clean energy landscape for funding, subsidies and incentives from federal, local and state government programs to help defray costs. They'll also seek money from private sources.
"It may theoretically cost X number to retrofit a building," Wilde said, "but depending on how we implement our strategy, that could be borne by another government agency, that could be borne by a funder, it could be from a public-private partnership or part of some other arrangement."
The city's 238-page 2022 Climate Action Plan, makes reference to a building electrification plan conducted in San Jose, which is similar in population size and residential/commercial makeup to San Diego. It estimated that to fully electrify a home in San Jose would cost $26,000 to $31,000 for a single-family home and $21,000 to $25,000 for a multi-family home — without any incentives or rebates.
Last October, New York City announced it will spend about $4 billion over the course of seven years on a plan that includes retrofitting 100 school buildings so that they no longer burn fossil fuels for heating.
Last year when after the San Diego City Council approved the retrofitting plan, Haney Hong, CEO of the San Diego County Taxpayers Association, voiced concerns about costs.
"Does it raise red flags? Absolutely," Hong said. "You don't want to make big, bold decisions without understanding what it's going to cost you."
But the Climate Action Campaign, a local environmental group, says the city needs to move quickly for all-electric construction of new buildings and retrofits of existing structures that use natural gas.
"There are so many state and federal funding sources available to do this work and to make sure that communities of concern are prioritized," said Serena Pelka, the group's policy advocate. "The city can't delay any further or they won't be able to take advantage of these funding sources to get it done ... This is a public health issue."
Natural gas is a fossil fuel and methane can leak from pipelines, well sites and other infrastructure. Some studies have reported a connection between natural gas stoves and asthma in children, although the natural gas industry says there are no documented risks to respiratory health, especially if homes are properly ventilated.
"Some might say we're doing it too fast and there's a pretty significant climate sustainability contingency that says we're not doing it fast enough," said Muto.
The San Diego City Council unanimously adopted the original version of Climate Action Plan in December 2015. It has been deemed a legally binding document.