Potentially damaging winds and possible flooding on tap from cold storm nearing San Diego
NWS says a cold system from Canada will arrive late Tuesday night and produce 40 mph to 90 mph winds well into Wednesday, straining trees and power lines
The frigid Canadian storm that will arrive in San Diego County late Tuesday night could produce "damaging winds from San Clemente Island to the Borrego desert," said Phil Gonsalves, a forecaster with the National Weather Service.
"There could be downed trees everywhere across the county," he said.
The winds will peak early Wednesday, gusting 45 mph to 50 mph in coastal cities, 82 mph at Mount Laguna and 90 mph to 100 mph at other isolated mountain peaks.
The region also will receive rain and snow as the first wave of a very cold four- to five-day storm spreads across Southern California. It's possible that the lower San Diego River in Mission Valley will reach flood stage on Sunday.
At various times through Saturday, daytime highs at and near the coast could be 10 to 15 degrees below average, and inland valleys and mountains could be 15 to 25 degrees below average, according to forecast models.
The weather service also said that 2 inches or more of rain could fall along the coast and 4 to 5 inches could drench the mountains, possibly triggering mud and rock slides. The models also indicate that 1 to 2 feet of snow could fall above the 5,000-foot level in the mountains.
"We don't know yet what the upper limit of the snow will be," said Liz Schenk, a weather service forecaster. "We could end up with multiple feet, and some of it could fall as low as the 2,000- to 2,500-foot level."
The first wave of the storm system will be notable for its winds, which will be widespread. Forecasters said that the 45 mph to 50 mph gusts could occur from Oceanside to Imperial Beach late Tuesday night and early Wednesday, ripping fronds off eucalyptus trees and generating a perilous chop in local harbors and inlets. They added that it is possible that San Diego International Airport will be hit by a 55 mph gust early Wednesday, tying a record set at that site in January 1988.
Travelers using Interstate 8 could experience gusts upward of 50 mph at and near the border of San Diego and Imperial counties, and well into southern Arizona. Forecasters said the wind could hit 82 mph at Mount Laguna and 90 mph at other isolated peaks in East County.
The wind also will generate enormous surf, with sets in the 7-foot to 10-foot range, with occasional 14-footers on Wednesday at some breaks, notably in the La Jolla area. A rare gale warning has been issued for near-shore ocean waters.
The coldest temperatures will likely occur on Wednesday, when the daytime high in San Diego will be 55, which is 11 degrees below average. Escondido will only get to 51 and El Cajon will top out at 54. Palomar Mountain is expected to barely reach 30.
Similar temperatures are forecast for Thursday, with only minor warming for Friday and possibly Saturday.
The frigid air will add to what's already been a cold month. So far, the average February temperature for San Diego stands at 55.8 degrees. That's 3.2 degrees below average.
Rain and snow are expected during the first wave of the storm. Both will intensify late Thursday and last into Friday and possibly Saturday, forecasters said. Mudslides will be possible because the rain is being added to already saturated soil.
"By the weekend, we could surpass the amount of rain that San Diego gets in an entire rainy season," said Brandt Maxwell, a weather service forecaster.
The season lasts from Oct. 1 to Sept. 30. So far this season, the San Diego airport has recorded 8.37 inches of precipitation. The historic average for a full season is 9.79 inches. San Diego hasn't received above-average rain for three years.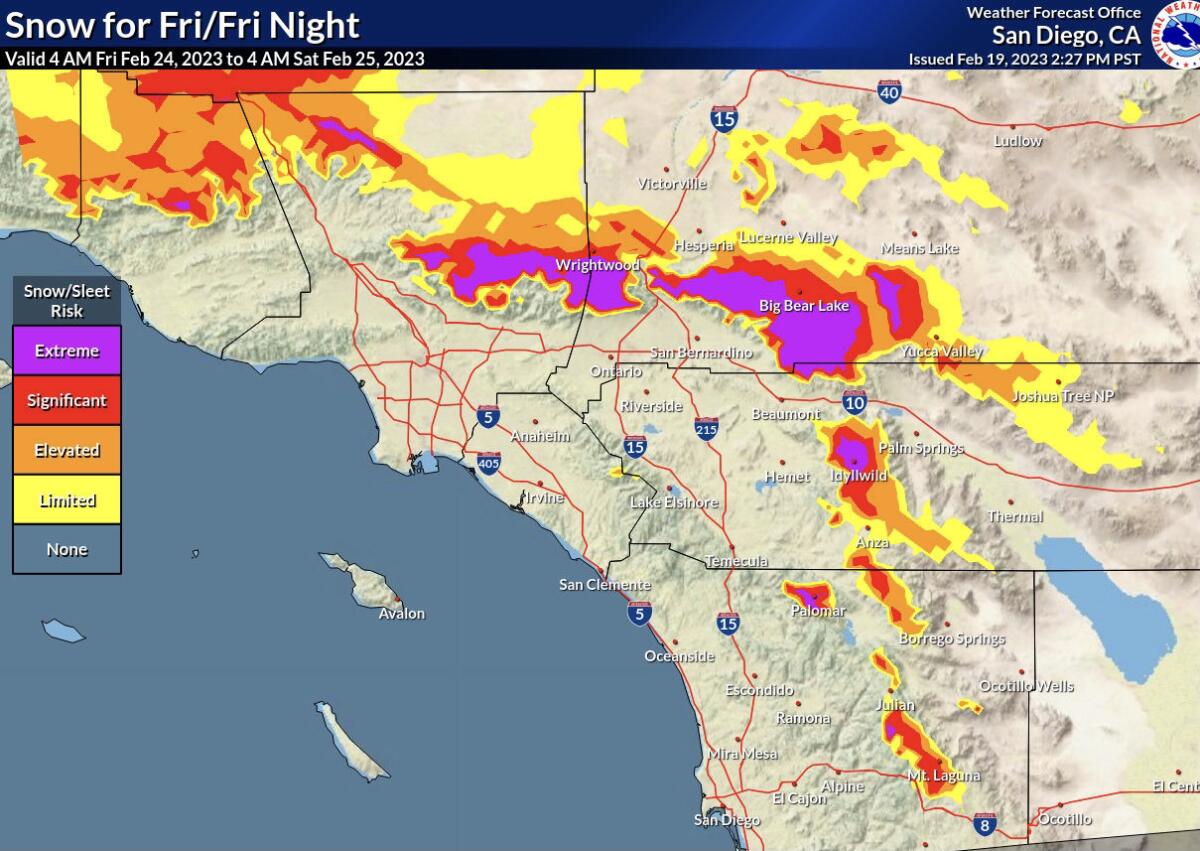 Updates
4:23 p.m. Feb. 21, 2023: New forecast information.
4:23 p.m. Feb. 21, 2023: Story updated with new wind, rain and snow forecasts.
4:23 p.m. Feb. 21, 2023: New wind gust information added.