Members of the club. The term is practically an idiom, referring to people who share interests, values and experiences.
At ZLAC Rowing Club on Mission Bay, the expression is apt and probably as old as the club itself. Started in 1892, the club caters to those who relish the sport of rowing. But there's one catch.
You have to be female.
"We do get men calling to inquire and we send them along to the San Diego Rowing Club as well as Mission Bay Aquatic Center," said Allison Komiyama, ZLAC's athletic chair. "I could see how that could be a draw."
They're women, all 450 members, from the youngest at age 15 to the eldest at age 97. And it's always been that way, which is why ZLAC is the oldest existing women's rowing club in the United States.
While identity unifies the membership, there's also a dichotomy to ZLAC. For some, ZLAC is just a rowing club, but for others, it's primarily a social outlet. For instance, some club officers depict rowing one way:
"Out on the water, we see birds, we see seals, and occasionally, we see dolphins," said Louise Keogh, current president. "It's very relaxing. It clears your mind."
"And no cell phones," chimed in Susan Benham, ZLAC resident manager.
"And it clears your pores," added Mary Bush, a member and former membership chair.
"Yes, we do sweat a lot," said Keogh.
While other members see it another way. ZLAC head masters coach Chris Shannon describes life at the clubhouse (a stunning structure located on Pacific Beach Drive and built in 1932) this way:
"In the rowing community, everyone thinks we have great parties," she said. "But we've been around such a long time because the social side has been so strong. We do have that reputation of having a lot of parties here, but when you have a place like this, why not?"
Perhaps the best way to deal with an ambiguity is to enjoy it.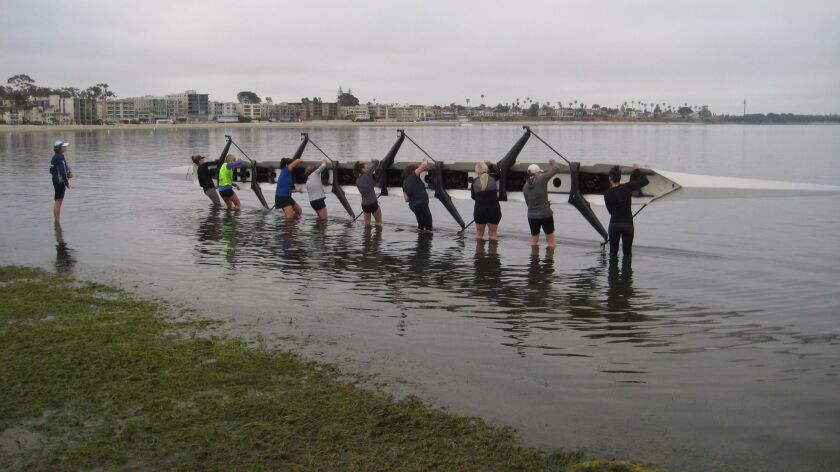 The rowing side is securely anchored into ZLAC. The club sports some of the top names from college and national teams as both members and coaches, including Olympic medalists such as Kelly Mitchell and Kerry Simmonds.
ZLAC has three rowing programs for members centered around age; coached Juniors (eighth grade to high school seniors), coached Masters (college age and older) and an Independent Rowers programs that allows members to use any of the club's 27 boats; singles, doubles, 4-person and 8-person boats, which can cost as much as $60,000 brand new.
However, ZLAC also offers Learn to Row programs for novices throughout the year that are open to the public. According to Keogh, the passion engendered in that program leads to new members, about 20-30 a year. But it isn't enough to just love rowing to be invited as a member.
"(Learn to Row is) our biggest source of new members," Keogh said. "Anybody can do that. Then, as they get to know people, they can be invited to join ... Part of the process is people need to come to events. So we do hope when someone's invited, they know what the club is about and want to join."
Keogh adds that membership is not tied to race, ethnicity, class, religion or any of the other categories that can drive society asunder. While the path to membership has remained steadfast throughout ZLAC's history, the source has changed dramatically since the club's founding.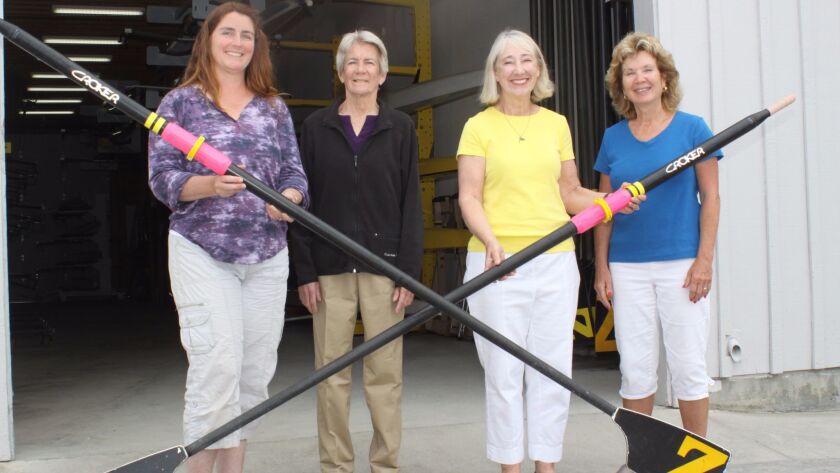 Young women were the main source of new membership in the early days, but that configuration has been flipped on its head today, with more than half of new members beyond their high school and college days.
"So many who are learning to row are in their 50s and 60s," said Bush. "That's changed the dynamic a little bit. It used to be that women came into the club as junior rowers and stayed in as a social member. Now we have women coming as rowers once their kids have left the nest and they have some time for themselves."
Full body Zen exercise
Rachel Smith of North Park is typical of the new breed. She joined ZLAC in 1994 after trying competitive sports like women's soccer and basketball.
"I was about to turn 50 and I was really nervous that without a sport or some active intervention, I was going to get weak and hunchbacked," Smith said. "After a couple of very unsuccessful attempts at other sports, I was introduced to rowing by a friend who said 'Rachel, no one's going to hurt you.' And I was hooked from Day 1. Now I've got an activity that will last me until I keel over. Full body Zen exercise."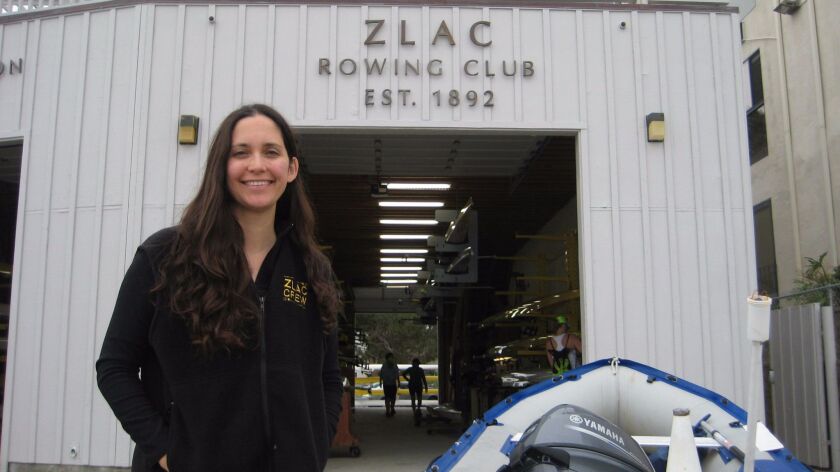 Yet if it's the sport that keeps the women of ZLAC going, it's the social side that keeps them coming. Members are organized into crews, which are smaller groups of similarly aged members who have lunches, wine tastings, and other events at the clubhouse.
While speaking of ZLAC, Komiyama gets three texts from fellow members — from pictures of new babies to a request to row together. Working in the medical field, she credits the network she gained at ZLAC for garnering her clients across the country.
"It's pretty amazing how the ZLAC community takes care of itself," Komiyama said. "I think of all the friends I've made and the connections I've made. That's the best part ... the women ... just to be surrounded by women who are role models helped prepare me for college and for life."
If the initial attraction of ZLAC is the activity, both rowing and social, Keogh argues that the greatest benefit comes as the years pass. Members will drive older members who can't and stay in touch when their own children might neglect them.
"Older people often become a little isolated and have lost a lot of friends, so they pull back," Keogh said. "It's nice to have people who seek you out and bring you in for social activities. It's an informal system, but we do look out for each other as we grow older."
So if ZLAC is an indicator, the role of women in society has changed enormously in the past 125 years: While women have achieved a lot by force of work, effort and struggle, they still have what they've always had: each other.
"We are a rowing club, but we're friends first and foremost," Bush said. "We go through our life changes together and we're here to support each other through those life changes. You become friends for life."
—To join the Learn to Row program or discover more about ZLAC, call (858) 274-0661 or visit zlac.org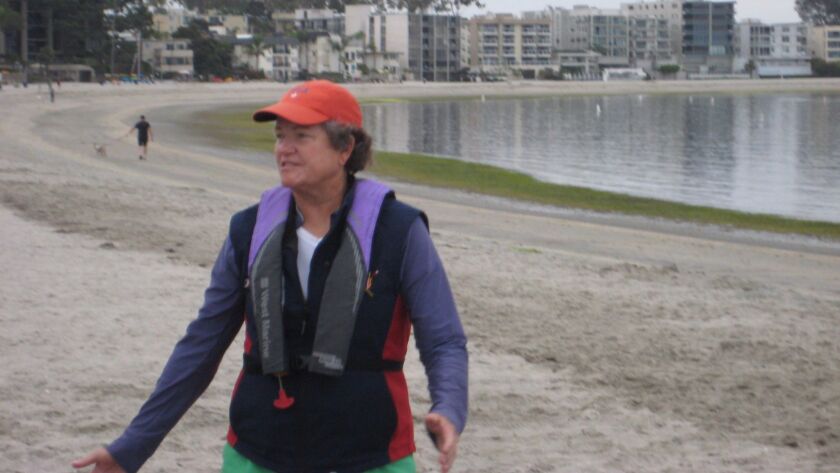 It's All about Persistence
If you could travel back in time to 1892 and talk to Zulette, Lena, Agnes and Caroline, you wouldn't be wondering today why they named the rowing club they founded ZLAC.
Zulette Lamb was best friend to the three Polhamus sisters and it was their love of rowing and one another that led to the club's founding in era when a woman's role in society was strictly defined; by men usually.
If starting a women's rowing club wasn't necessarily a revolutionary act, the four women were definitely going against the tide.
"Back then, women weren't supposed to be athletes," said Carolyn Thomasson, ZLAC's historian and a member since 1962. "They thought it would affect their femininity. (ZLAC's founders) were the only ones around to be athletic. They had to talk people into being athletic. They were just teenage girls."
According Louise Keogh, the club's current president, the ZLAC women weren't seeking privileges, just the chance to follow their interests. And with a father who was a boat captain and brothers that also rowed, the Polhamus sisters were just following a family tradition.
"They thought, if my brothers can do it, we want to do it too," Keogh said. "They were going against the conventions of the time."
And rough going it was. For the first couple of years, the women used a boat lent to them by a butcher who would row to the ships anchored in San Diego Harbor to take and deliver meat orders, Keogh explained.
With 35 cents in the club treasury at its start, it took a few years to raise the money needed to buy their own rowing boat, Thomasson said. By 1895, they had raised the $1,000 needed to buy their own vessel - the ZLAC I, a wooden boat weighing a hefty 2,000 pounds compared to 200-pound eight-person crafts made of carbon fibers today.
Tenacity and resolve were crucial for the three sisters and their friend to found a women's athletic club at the turn of the 20th century, but the essential ingredient for success was foresight. And that came in handy when ZLAC moved its boathouse from its original digs on Market St. at the present site of the Convention Center to their current home on Mission Bay.
"They were very progressive when they purchased the property here because it was just marshland," said Mary Bush, a ZLAC member. "It was not Mission Bay as we know it now. They had foresight of what this area was going to become enough to invest in building the house. And there were a lot of complaints (from many of the members)."
Of course, foresight is a lot easier when you have friends in high places. According to Thomasson, they found the property on a tip and with contributions from San Diego's elite families such as the Scripps, Marston and Jessop families, ZLAC purchased the two lots for $5,000 and built the clubhouse in 1932 for $10,000.
"Ellen Scripps called over here and said, come over and get this property," Thomasson said.
The history of ZLAC is rich and in many ways parallels the development of today's modern woman. A timeline of milestones - such as the building of the original boathouse in 1963 and the present one in 2000, or the key contribution of ZLAC member Patty Wyatt in establishing the San Diego Crew Classic in 1973, now one of the top races in the country - would easily demonstrate ZLAC's important role in the development of San Diego.
Like today's club however, it isn't the what and when, but the how and why that best reveals the colorful character of the membership in the club's progress.
For instance, ZLAC was originally founded as a club for single women only, but that restriction was dropped in the 1920s. While it might be tempting to ascribe the change to an era that finally saw women gaining the right to vote and fomenting a radically new identity in society, the motive was much more practical, according to Thomasson.
"Lena got married and the club evolved," she said.
It's those kind of stories that best exemplify spirit of the club, past and present. It's an attitude really, one that current members embrace and are keenly committed to passing onto the next generation of female rowers.
When ZLAC purchased its latest two-person boat recently, they conducted a boat naming contest online, Keogh said. Raising $6,000 in the process, the boat was christened with the name voted by the members.
It's known as the "Nevertheless She Persisted."
"What's the future of the club?" Keogh said in comments at the club's 125th anniversary gala on June 19. "We've been here for 125 years. There have been so many changes that have occurred over that period of time. What will happen in the next 125 years? We have persisted and yes, we will persist because we have a lot of passion in this club. We have a lot of talented and strong women."
Did you know?
Rowing is one of the original sports in the modern Olympic Games.
Physiologically, rowers are superb examples of physical conditioning. Cross-country skiers and long-distance speed skaters are comparable in terms of the physical demands the sport places on the athletes.
Physiologists claim that rowing a 2,000-meter race (equivalent to 1.25 miles) is equal to playing back-to-back basketball games.

Party at ZLAC
The ZLAC clubhouse is virtually imperceptible among the rows of multi-unit housing buildings along Pacific Beach Drive. However, from the boardwalk on the bayside, the splendid structure built in 1932 is recognizable for its open veranda and quaint courtyards amid a lush interior.
The building was designed by famed architect Lilian Rice, a former president of ZLAC, who was a leader in the Spanish Colonial Revival movement and is famous as one of the primary planners of Rancho Santa Fe. The landscaping was done by horticulturalist Kate Sessions, known as the "Mother of Balboa Park."
If you've seen the historic building and thought to yourself that the place would make an ideal setting for a party, you'd be right. ZLAC rents it's clubhouse to the public. "We've had every kind of event," said Mary Bush, a ZLAC member. "Weddings, graduations, retirement parties. There are business meetings."
The clubhouse averages about 50 events a year in rentals, with weddings comprising about 80 percent of the total, according to Susan Benham, resident manager. Most couples take their vows on the beach but those arrangements must be made with the City of San Diego.
Renting is usually limited to weekends since the clubhouse is dominated by ZLAC activities during the week. Capacity is 250 people with seating for 135, and guests chose from a list of approved caterers. Fees vary, depending on time of year and time of day.
Although ZLAC didn't release figures, clubhouse rentals account for about 15 percent of the club's annual income. With a mission statement that includes maintenance of the clubhouse, president Louise Keogh said every penny counts.
"We are stewards of the building and we can't let it fall apart," she said. "We have to preserve it. That's the biggest concern; that we have enough money to take care of it."
And maintenance is definitely not glamorous. When the budget is being discussed, Bush said members often think about spending money on procurement, not preservation. "It's sexy projects versus non-sexy projects," she said. "People think about fireplaces and no one thinks about wiring."
Operations aside, the ZLAC clubhouse, grounds and setting are endowed with the features to make any event what it is to those attending: special.
"It's a novelty," said Benham. "Rustic. Serene. Situated well ... And if they don't have a DJ, I want them!"
—To learn more about renting the ZLAC Clubhouse, e-mail rentals@zlac.org or call (858) 274-0661 and ask for the resident manager. —S. Mihailovich
---