At its March 20 general meeting, the PB Town Council provided a forum for City officials to address the car-sleeping controversy and gather community input, while fostering a civil debate among residents seeking off-leash dog parks in town.
The first half of the evening had residents barraging presenters with concerns over the proposed use of the South Shores parking lot in Mission Bay Park as a safe haven for homeless people living in their vehicles. The consensus was "this would open the floodgates in PB."
The issue arose after the City Council's repeal in February of the 26-year prohibition against car-sleeping. In response, the PB Town Council sent a letter to City officials on March 8 urging enactment of "a legally defensible ordinance prohibiting vehicular habitation in residential zones ... and also within a one-block radius of a park or a licensed school, preschool or daycare."
(*Editor's Note: As PB Monthly went to press, March 29, we received an e-mail alert from PB Town Council president Brian White stating: "It appears the South Shores proposal is not feasible due to the fact that it's dedicated parkland and can only be used for recreational purposes.")
During the second half of the meeting, dog owners surmounted opposition while trying to rally support for locations in the community suitable to all parties to meet the need for off-leash dog walking.
Sleeping in cars
In August last year, the Ninth District Federal Court of Appeals struck down the ban on vehicle habitation in another jurisdiction, forcing the City of San Diego to repeal its similarly worded ordinance rather than fight lawsuits it was likely to lose.
Monica Eslamian, the PB representative for District 2 City Council member Jennifer Campbell, said her office is searching for City parking lots to channel the anticipated increase in vehicle-living in the area.
With most City-owned parking lots located near beaches and parks, the South Shores parking lot was selected as one of the few relatively distant from residential areas, Eslamian said. The feasibility for the site is yet to be determined, she added, and asked the audience for recommendations on more suitable locations.
"We're wondering what solutions we can have moving forward to mediate the situation," Eslamian told the crowd. "We're hoping that because they're already here, opening up South Shores won't be drawing more people in ... because if we're encouraging people to go to this parking lot, it will actually bring down the amount of people coming here because we're limiting the space where they are able to function comfortably."
Any other location would be operated by Dreams for Change under its Safe Parking program, which provides secure parking lots overnight with washrooms and showers, while helping people find permanent housing.
The non-profit (reachable through dreamsforchange.org) already runs two Safe Parking lots, one downtown and another in East Imperial County. Founded in 2009 during the height of the Great Recession and housing crisis, CEO Teresa Smith said that even with a stable economy, more people are using the program than ever before — especially families with children, because of the growing affordable housing crisis.
"When we started this program, typically it took an average of 3 to 6 months for someone to get back into housing," Smith said. "Without the housing availability right now, we're definitely seeing a longer time. Our individuals may be ready at 3 months, but it's taking 6, 8, 9 (months) — up to a year sometimes — to actually find an apartment they can move in to."
Although generally applauding the program's aim, the audience worried it would serve as a cover for vacationers trying to visit and even stay in Pacific Beach on the sly, or serve criminals. Smith argued that the structure of the program, with its rules and nightly visits from social workers, effectively separates the wheat from the chaff.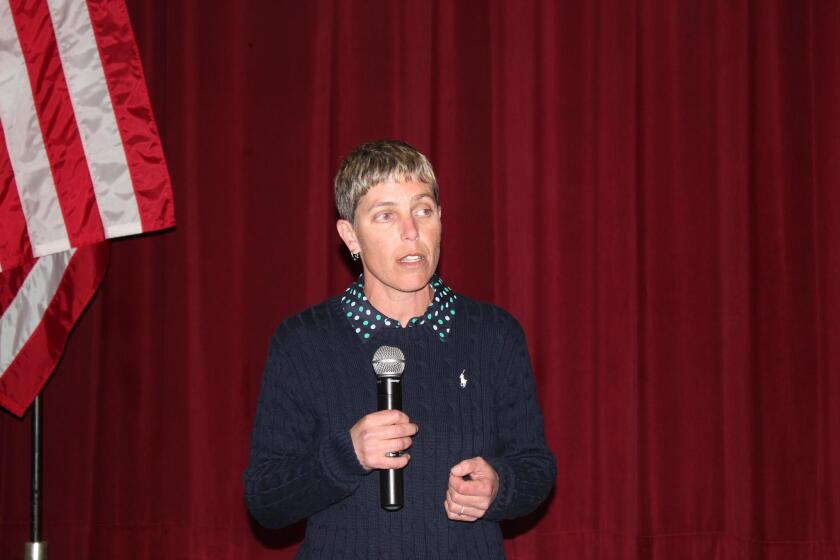 "By having our case managers on site each evening, we're able to get to know these clients," she explained. "The criminal elements quickly become evident and we will remove them."
Law enforcement
Despite the audience's anxiety that the fine line would be lost in the crush of cars and RVs descending upon PB for the summer, San Diego Police Lt. Lisa McKean reminded all that the laws regulating other activities remain in effect.
"Everything else still applies," she said. "If there is an oversized vehicle, that can be enforced. If there's criminal activity in or around that vehicle, that can be enforced. Everything absent the vehicle habitation (ordinance) is still enforceable."
Eslamian noted that the problem was temporary while the City drafts a tighter vehicle habitation ordinance that could withstand a legal challenge, but resident Brian Curry expressed doubts that drew applause from the audience.
"What we get scared of is that on City property, the City won't take responsibility for making sure that it goes down the way it's supposed to go down," he said. "We are the ones, the public, always trying to follow-up and get things done. And like the short-term vacation rentals, it's taken 12 years and we still don't have an ordinance. That's the issue."
Dogs off-leash
In the second half of the meeting, dog owners presented their plans and pleas for dog parks, shared-use parks or any other location where they could let their dogs run off-leash for healthier and more socialized dogs.
Melanie Wilson, an eight-year PB resident, talked about the two petitions she's launched; one to make Kate Sessions Park an off-leash facility and another to remove the daylight hour restrictions for walking dogs on leashes in Mission Bay Park. The petitions have garnered 2,100 signatures to date, she said.
Kevin Dougherty, a 36-year PB resident, said a number of models exist, pointing at the City of Encinitas' establishment of five shared-use parks. "I think there's ample opportunity to find a solution because this just keeps coming up over and over and over again," said Dougherty. "It flies in the face of logic to say there's no demand for people to let their dogs off-leash."
Yet the rumblings came early and often. Noting the historical Kate Sessions' antipathy to dogs, civic volunteer Eve Anderson argued that despite the best efforts of responsible dog owners, the lowest common denominator make the idea of shared-use impossible.
"Shared use?" asked Anderson. "There's no such thing. You have a choice. You have Kate Sessions Park for all the people. You find another area (for the dogs). But you have to keep it separate."
Resident Peter Holmes countered that responsible dog owners have been constrained for so long that they are ready to police their own if an agreed site is found. "This is an issue where we really need to work together," he said. "Because if we keep fighting each other, it works out horribly for everybody."
Yet resistance was persistent. Jane Knobbs reported that share-use already exists at the Crown Point Elementary School field and children are regularly soiled by dog droppings during physical education and sports activities. "There is shared-use, but I don't think it's working very well," she said.
Yet the crowd offered resolution as much as conflict. When Marcie Beckett suggested that dog owners walking their dogs could pacify the passive green area behind the library currently used primarily by homeless people and drug dealers, dog owners jumped at the bit.
"In other cities, that's something that they're using to actually remove blight and remove problem areas in the city," Wilson remarked. "The library is one option that's centrally located."
Other offers of assistance and encouragement helped to mollify the dog owners. Yet they remained steadfast that they weren't seeking remedies apart from the community but as a part of the community.
"Kate Sessions isn't the only solution," said resident Vincent Fitzgerald. "Kevin up there has a document that has six or seven alternate solutions. We just want to have something in PB for our dogs. We feel that other people in San Diego have that opportunity and we do not."
—The Town Council next meets 6:30 p.m., Wednesday, April 17 at Crown Point Jr. Music Academy, 4033 Ingraham St. pbtowncouncil.org
---