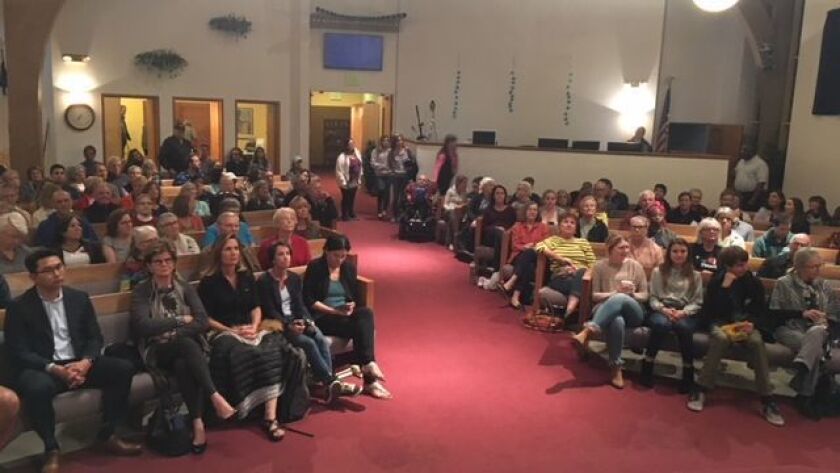 The screening of a documentary about homelessness in San Diego brought more than 150 people to Pacific Beach on Tuesday evening, Feb. 6, where "Tony – the Movie" was playing at United Methodist Church, 1561 Thomas Ave.
Director Dennis Stein and the film's subject, Tony Rodriguez, were on hand to answer questions and discuss the topic.
The event, which lasted two hours, was organized by several Pacific Beach agencies that serve those living on the street. The church's pastor, Bob Rhodes, started the evening by describing the host of services United Methodist offers to homeless people, including a weekly community meal; free medical, dental and acupuncture clinics; as well social workers and psychologists who will meet with them.
A representative from Pacific Beach Street Guardians shared how the nonprofit "connects the housed with the unhoused" by offering janitorial, custodial and street-cleaning jobs to homeless people, as well as life skills training. A spokesperson from Discover PB talked about its homeless outreach through the Clean & Safe program, and a representative from Community Christian Service Agency said it offers free food, bus passes for job interviews, counseling and first aid to the homeless.
Next, the film screened to provide the audience with a graphic slice of life on the streets. Its showings around town come at a time when San Diego faces an ever-burgeoning problem of homelessness with no long-term solutions in place. The San Diego Regional Task Force on the Homeless. reports that the number of unsheltered homeless has jumped 23 percent over the last five years to reach 5,600. Chronic homelessness went up 12 percent last year. Factor in San Diego's recent Hepatitis A outbreak (among the homeless) and the situation looks dire at best.
The movie documents Tony's life over nine months. He is a 58-year-old who ends up homeless after losing his job as a waiter. His search for housing turns into a quest for solutions to homelessness, not just for himself, but for thousands of people living on the streets across the county.
Tony, his girlfriend, Ginger, and their dog sleep in a makeshift tent outside an auto body shop in downtown's East Village. Tony has multiple citations and is on probation when he receives a final warning: If caught again camping on the sidewalk, he'll spend a month in jail. Tony says once his girlfriend had to flee her tent, wrapped only in a blanket, to avoid getting arrested. "We're always on guard, otherwise you go to jail," he says.
Tony collects cans to bring to the recycling center. He hangs out at the public library downtown because no one bothers him there and he can charge his cell phone. He goes dumpster diving, looking not only for food, but any broken items he can fix or sell as is. Trade is part of daily survival. "It's a functioning society," he claims, "because there are always things to sell, things to liquidate, because no one's got money."
Tony says he'd rather be on the streets than at St. Vincent de Paul Shelter because of restrictions and potential theft. He claims, "They're on you there, they're on you. They offer a shower and good food, but they make you go to bed at 10 p.m. and there's a lot of snoring, talking and stealing. You get points against you for not making your bed, not making curfew and other things. Three points and you're out."
He sobs when he talks about his childhood growing up in Ocean Beach, his abusive father, and his sister who committed suicide. He says his grandmother was the only one who showed him love in this world before she died. He stammers through tears: "I told her I would be all right, but I lied. I started slamming coke and heroin. I wanted to die."
The long and winding road
Tony interviews with a representative from the Alpha Project to see what resources he qualifies for, as well as several other homeless agencies. He says: "A lot of things are starting to happen, but they haven't actually happened. Tonight, I'll go back and I'm on the sidewalk."
But Tony admits in the film that he has doubts about living a "normal" life again: "I don't know if I can be punctual anymore. My memory is shot. I'm almost 60 years old and it's not getting better. I think I'm still the same person but weaker, less inclined to want to get help. I didn't think I was beaten down, but I am.
"If I took great courage to get off the street, I'd be on the lowest rung of society. People would say, 'What's wrong with him?' On the streets, we're all broken people, there's a camaraderie. I don't know where I would fit in."
Tony along with director Stein, traveled across the country to cities like Houston, Seattle and Atlanta to see how these towns are solving their homeless problem. They learned that every successful model starts with housing first — no matter if someone's addicted to drugs or alcohol.
For example, Houston created a "collaborative, collective system" where all service providers and agencies work together to get rapid rehousing or permanent support housing for the homeless (temporary housing doesn't work, they've found). Then the system matches people to the services they need. Houston reduced its homeless population by 5,000 in five years using that plan. San Diego is considering a similar plan, awaiting a report by the Regional Task Force on the Homeless.
Stein said he's shown the film 30 times and plans to put it on YouTube.
As for Tony, he's still living in a makeshift tent, but now he pitches it in a good Samaritan's private driveway downtown. He considers it a blessing because "the cops can't bother me there."
After the screening, questions centered on Section 8 housing (allows private landlords to rent apartments and homes at fair market rates to qualified low-income tenants, with a rental subsidy funded by the U.S. Department of Housing & Urban Development); possible new funding sources for housing; more outreach; and the challenges of mental illness among the homeless. One homeless man in the audience asked director Stein: "Who do I see about becoming not homeless?"
Stein gave him some advice, and then concluded the presentation by urging the audience to learn more, get involved and become an advocate for homeless issues by contacting elected officials about their concerns.
---