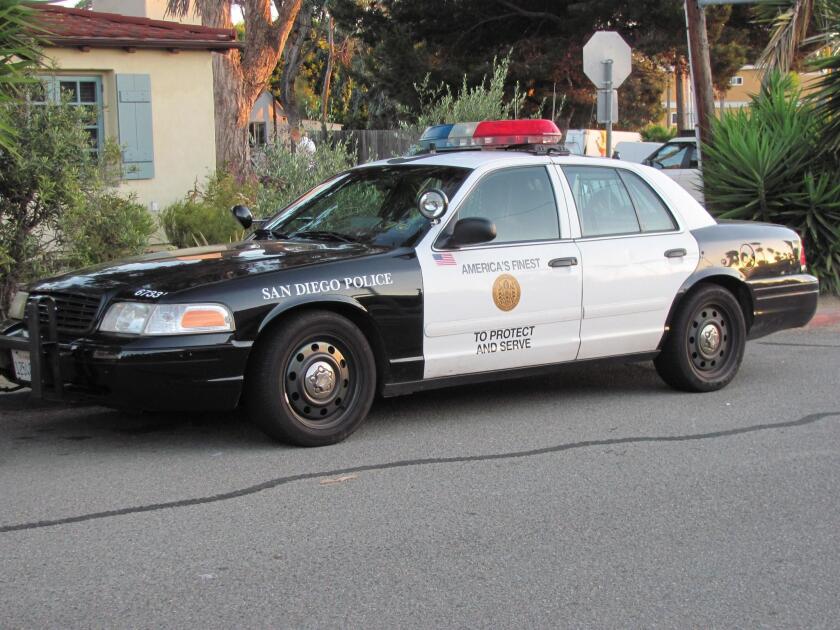 Police investigate assaults at lounge in PB, July 7
At 9:21 p.m. Sunday, July 7, a group of four males attempted to enter the Firehouse American Eatery & Lounge at 722 Grant Ave. in Pacific Beach through a side entrance. The bouncer outside told the group they could not enter from the side, and needed to use the main entrance.
One of the males in the group picked up a metal, crowd barrier stanchion pole and struck the bouncer over the head with it. The victim suffered a skull fracture and brain bleed. He is in critical, but stable, condition at a local hospital.
The other three males in the group began fighting with other security staff, resulting in one bouncer suffering a broken nose and the other two sustaining bumps and bruises.
The first main suspect was described as a black male in his 30s, 6 feet tall, weighing 250 pounds, with a muscular build. He was wearing a white T-shirt and blue jeans. All four suspects fled the area.
Police Northern Division investigations is handling the incident. Anyone with information is encouraged to call Crime Stoppers at (888) 580-8477 or get in touch with Watch Commander Sgt. J. Ruvido.
Assault in PB ends in homicide
At 1:10 a.m. Saturday, June 22, police received a radio call of an assault outside of the 7-Eleven, located at 4340 Mission Blvd. During the fight, the suspect stabbed the victim multiple times. Officers arrived a few minutes later and located the victim, a 40-50-year-old white male, with trauma to his upper torso.
They performed life-saving measures on the victim until relieved by San Diego Fire Department Paramedics. The victim was transported to the hospital, but succumbed to his injuries and was pronounced dead at the hospital.
The victim has been identified as 40-year-old Sean Paul Snellman.
The suspect is described as a black male, 5'8" to 5'10" tall, wearing a black shirt, blue jeans, black shoes and a black hat. The suspect may also have gold braces or a gold mouth grill and rides a longboard-style skateboard.
A $1,000 reward is being offered. Anyone with information is asked to call the Homicide Unit at (619) 531-2293 or Crime Stoppers at (888) 580-8477.
Fatal scooter accident in Mission Beach
On June 23 at approximately 1:30 p.m., Brian Witzeman of Mesa, Arizona and a female friend were each riding a motorized scooter in the 3300 block of Ocean Front Walk. They collided into one another and fell onto the concrete walkway.
Lifeguards from San Diego Fire-Rescue responded to the collision and provided medical aid. Traffic Division officers responded and began conducting an investigation. Witzeman complained of chest pain and was transported to Scripps Memorial Hospital in La Jolla where he died.
The County Medical Examiner's Office released its preliminary report indicating Witzeman's cause of death was "blunt force torso trauma." Weitzman and the female rider were not wearing helmets.
At this point in the investigation, alcohol and/or drugs do not appear to be a factor in this collision.
The City of is implementing new regulations on dockless devices. Starting July 1, device operators will be required to reduce speeds in specific geofenced areas, including beach-area boardwalks. To learn more, visit sandiego.gov/bicycling/bicycle-and-scooter-sharing/rules
Checkpoint leads to DUI arrests
Police Traffic Division conducted a DUI/Drivers License checkpoint between 11 p.m. and 3 a.m. Friday, June 7 at 2600 Ingraham St. The checkpoint resulted in 7 DUI-Alcohol suspects arrested in or near the checkpoint, 1 citation issued and 7 vehicles impounded.
___
POLICE BLOTTER
Assault reports: 28
Drugs/Alcohol tickets: 188
DUI's Drugs/Alcohol: 13
Weapons violations: 7
Fraud reports: 5
Rape: 3 incidents — 900 block West Mission Bay, 12 a.m. June 9; 3200 block Mission, 1 a.m. June 17; 1200 block Agate, 10 p.m. June 15.
Residential Burglary: 11 — 700 block Kingston, 9 p.m. May 26; 900 block Diamond, 2:20 p.m. June 5; 1000 block Emerald, 6 p.m. May 31; 1500 block Hornblend, 6:30 a.m. June 3; 4100 block Fanuel, 1:30 p.m. June 9; 1100 block Chalcedony, 6 p.m. June 12; 3300 block Bayside, 1 a.m. June 12; 1000 block Archer, 8:01 a.m. May 20; 7200 block Fairway, 6 p.m. June 15; 3600 block Ocean Front, 2:30 a.m. June 18; 3500 block Ocean Front, 12:01 a.m. June 18.
Commercial Burglary: 4 — 4400 block Mission, 12:19 p.m. May 30; 2100 block Reed, 4 p.m. May 29; 1400 block Vacation, 8:30 p.m. June 1; 1400 block Vacation, 5 p.m. June 5.
Robberies: 2 — 4400 block Ocean Front, 2 a.m. June 9; 1100 block West Mission Bay, 1 a.m. June 13.
Grand Theft (over $950): 11 reports
Petty Theft/Shoplifting: 27 reports
Vandalism: 21 reports
Vehicle Break-ins: 20
Vehicle Theft: 17 reports
—Compiled by Savanah Duffy from San Diego Police Reports
---