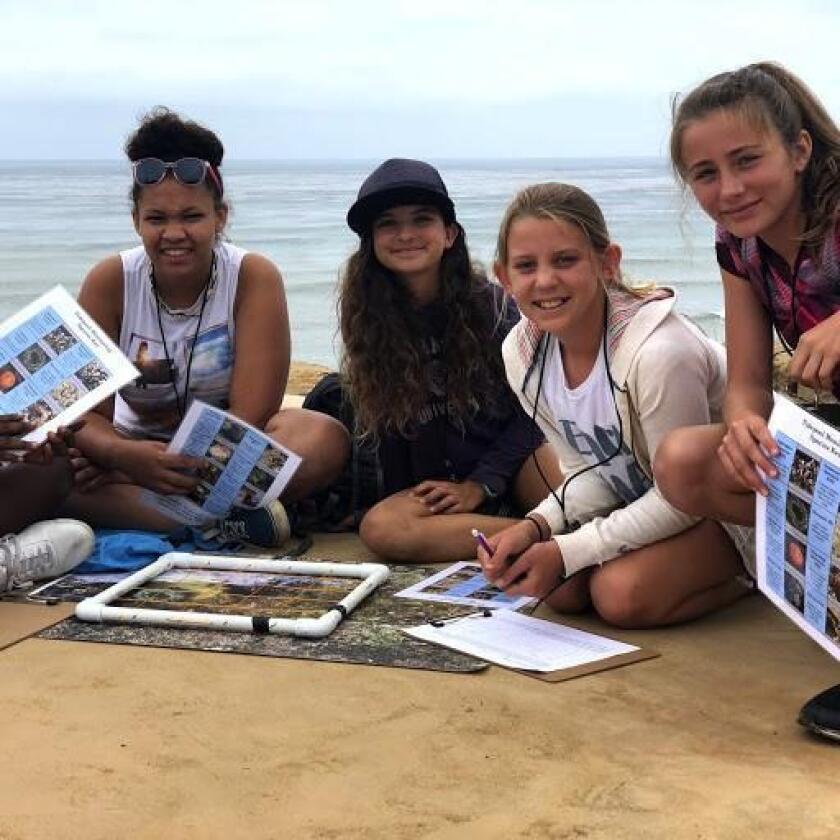 Did you know: The chirp an Anna's Hummingbird makes when it takes a sudden and swift dive through the air is actually a "mini sonic boom" that comes from the bird's tail feathers as a result of how quickly and at what angle it's flying?
Biologist Samantha Wynns educated PB Monthly about hummingbirds, native plant life, whale migrations and much more during a recent nature walk through Cabrillo National Monument park — a brief example of what she does for the community year-around.
Cabrillo is famously recognized for its historic lighthouse, phenomenal views at the tip of the Point Loma peninsula and its military history, but it is becoming increasingly better known for is its vast biodiversity, thanks to the many outreach programs hosted by rangers and scientists there.
Wynns, who lived in Point Loma when she and her husband first moved to San Diego in 1999, is Cabrillo's Community Outreach Coordinator and science educator. As such, she welcomes the public to interactive excursions through the park to reveal what's being done to preserve its natural resources.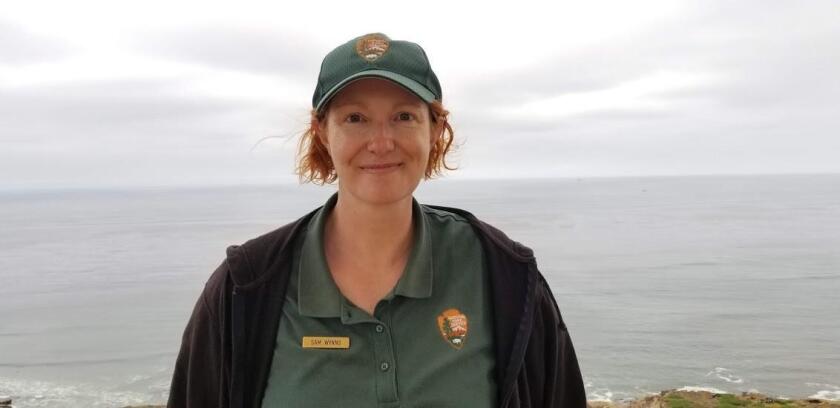 These free programs, while often embraced by school children, are also intended for the public at large. Those interested have the opportunity to choose from the two ranger-led programs — one stressing the history of the park or the other focusing on its environmental sciences.
Interactive learning
Cabrillo's science program is about five years old. It's run by Wynns and coworker Andrew Rosales, and includes: Tide Pool Explorations, Science Sampler, Plant Adaptations, Biodiversity Snapshot, Climate Kids and Conservation + Comics.
While each of these programs differs in what they teach and the activities involved, all feature learning through inquiry-based lectures and a field excursion.
"What does this leaf smell like?" Wynns asked PB Monthly. "Why do you think it smells like that? Who do you think the leaf is trying to attract?" After some discussion and having rubbed a coastal sage scrub leaf to bring out the leaf's scent, it was established that the sage scrub's strong, almost-minty scent is a lot more significant than one might think.
As for the popular Conservation + Comics program, Wynns said she started it to teach students and adults a fun way to communicate scientific observations and discoveries by fully embracing the "A" in STEAM curricula — Science, Technology, Engineering, Arts and Mathematics. She said she learned that even if science is fun to her, many people can find it daunting. But that doesn't mean science can't be learned and appreciated.
"People are recognizing that art is an incredible bridge, especially for some of these traditionally more difficult subject matters," Wynns explained. "Art is a great connector, you don't even have to speak the same language to have something communicated to you (through art)."
Participants practice the three primary jobs of a scientist: observation of a problem, development of a solution to the problem, and communication of that solution. For scientists, ecologists, biologists and, well, everyone, communication is key. "If I find a cure for cancer, does it matter if I don't tell anyone about it?" Wynns opined.
Comic applications
Wynns is assisted in the Conservation + Comics program by Alonso Nunez, Little Fish Comic Book Studio founder and executive director. When Wynns reached out to him for help, he said it was "an automatic 'yes!' "
"A big part of what I love about my job and what we do with Little Fish is finding the Venn Diagram possibilities for comics," Nunez explained. "It's just always been natural to try to find things that comics overlap with. It was a really natural fit to try to see if we could use the power of comics to explain the magic of science."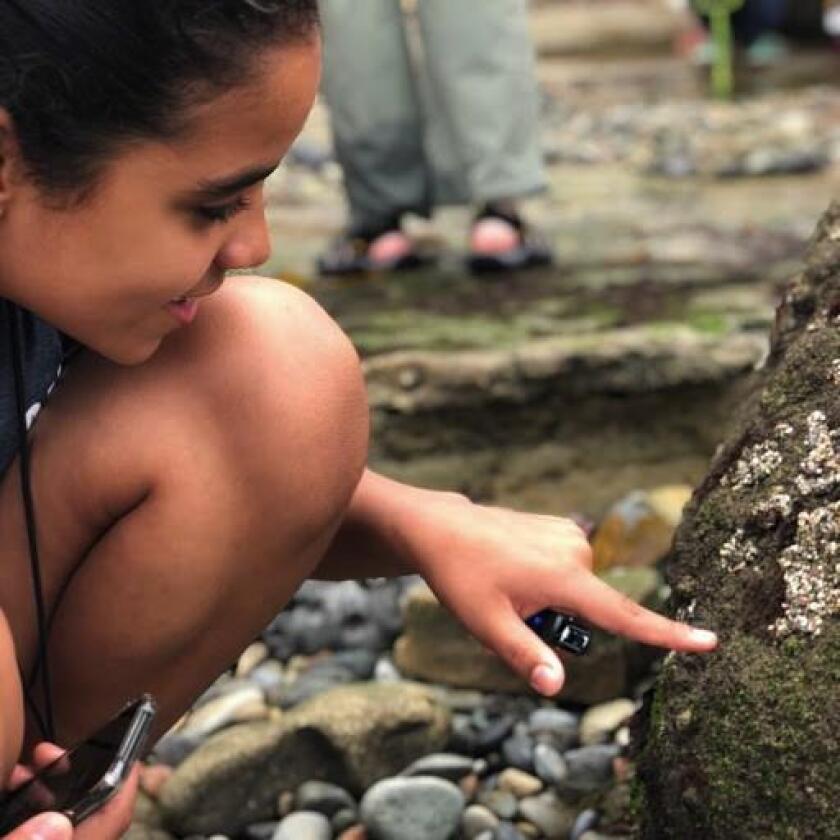 During Conservation + Comics, Wynns begins by introducing guests to the reality of habitat loss and climate change. Then, she leads the group on a walk around Cabrillo to observe the wealth of biodiversity in the area, while pointing out how the natural resources are being threatened. The group then brainstorms ways to help solve the issue (Wynns is an excellent question-asker), before the art portion starts.
At this point, Nunez takes the lead by breaking down what the group thinks "comics" are, typically using this time as an opportunity to dispel preconceived notions, such as the idea that comics have to relate to superheroes, be in color, be fiction, etc. To Nunez, the foundation of comics is simply words and pictures put together to tell a story.
He then leads participants step by step through what panels they will be illustrating: location (lighthouse, ocean, general terrain, etc.), subject (kelp bed, agave, peregrine falcon, etc.), problem (threat to the subject's life) and solution (how to rectify the situation). He will also sketch a model for students to easily follow along.
But Nunez understands that drawing is not everyone's strong suit, which is why he offers these words of encouragement: "Comics is so much more about the storytelling than it is the actual drawing itself." Nunez said he helps students focus on the clarity of their drawings, rather than the illustration's excellence. He added that the fun thing about comics, is the comic-creator gets to use drawings and narration in the form of word balloons or captions to tell the story.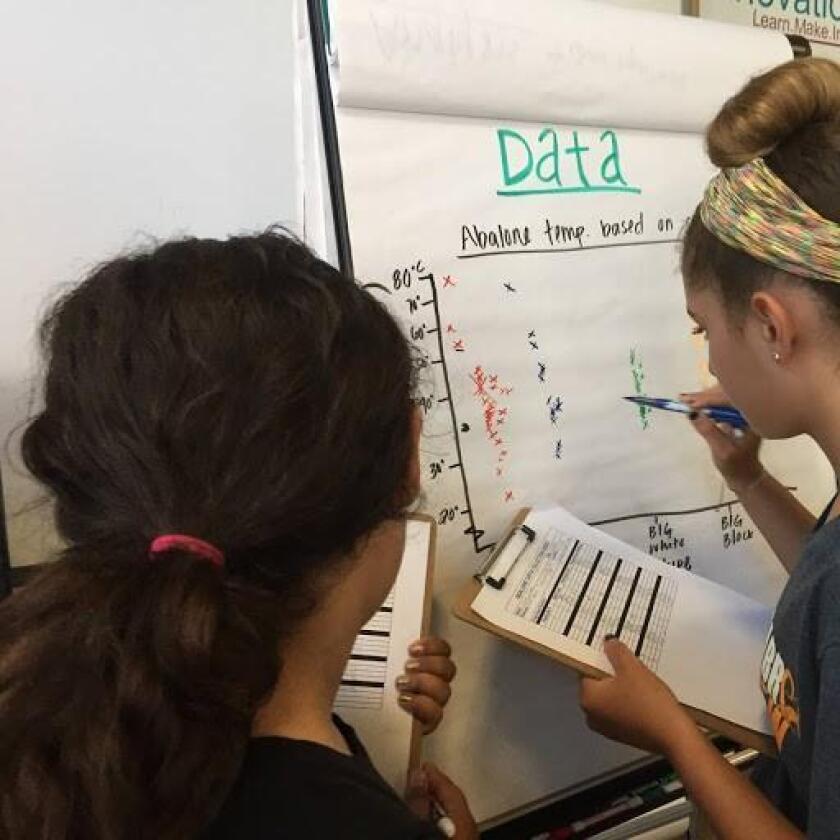 Conservation + Comics is not only accessible to all skill levels, but to all ages as well. While Nunez has discovered the younger group tends to take up the drawing portion of the program more naturally, he has discovered that adults will also embrace the artistic activities.
"I had a parent recently say to me that they hadn't drawn in, I think it was 20 years," Nunez shared. "You know, with life and kids and if you're not an artist, who knows when you're going to draw? It was really cool to see her reaching back with something it seems like she had a passion for."
Sessions on demand
While these programs are generally held during the school year, if a home-school or year-round school wants to attend during the summer, Cabrillo can make it happen.
However, these outreach programs are more than just free fun; they have one big idea behind them.
"Environmental stewardship," Wynns said. "People can't conserve what they don't know about, and won't conserve what they don't care about." Through lessons and outdoor adventures, she hopes to cultivate an empathetic and caring attitude toward San Diego's vast biodiversity.
Everything included in the educational programs — from instructors' time, colored pencils and notebooks to quadrats, calipers and data sheets, even entrance to the park itself — is free. There are even "travel trunks" full of activities and games to ensure the lessons hit home that are available for free check out.
Furthermore, schools can fill out a form for free transportation if they can't afford the bus ride to the monument — funded by partner organization the Cabrillo National Monument Foundation.
And for those who just can't make it any which way, Wynns or Rosales will make an excursion to visit whatever school wants to partake in the program, as part of the Science Explorers Club.
"Part of the reason I started doing community visits," Wynns said, "is that sometimes there's a barrier for people to get up here, so I can bring the park to them.
"Sometimes, people don't feel like these public park lands belong to them, for whatever reason. I really want to reach out to them and say 'These are your lands. It doesn't matter what demographic you're from, what your background is. We want you to come and enjoy them and appreciate them.' "
—Conservation + Comics is offered year-round at 10 and 11:30 a.m. To sign-up, e-mail Samantha_Wynns@partner.nps.gov To register for other programs, visit cabrilloeducation.com/science-programs or call (619) 557-5450.
______
EcoLogik Project for Girls
• For the third year, in collaboration with San Diego Central Library, Cabrillo will host a free summer program for girls, ages 9-16, who show interest in science, nature and/or technology, Aug. 5-9. Drop-off time is 8:30-9 a.m., pick-up time is 3 p.m. at San Diego Central Library, 330 Park Blvd.
Families are invited to join their students as they exhibit what they've learned for park visitors, 10:15-11:15 a.m. Aug. 9. The camp will take place in the Innovation Lab at the library and Cabrillo National Monument. To sign up or get more details, visit bit.ly/ecologik2019
About Cabrillo Monument
• Cabrillo National Monument is at the southernmost tip of the Point Loma Peninsula, 1800 Cabrillo Memorial Drive. At 144 acre, the park is home to a range of native plant and wildlife, the old and new Point Loma Lighthouses, tide pools, a monument to commemorate the landing of Juan Rodríguez Cabrillo at San Diego Bay, visitor center, gift shop and more.
• Hours: 9 a.m. to 5 p.m., with some facilities closing at 4 p.m.
• Entry Fees: $20 vehicles, $15 motorcycles, $10 walk-ins or bikes
• Contact: (619) 557-5450, nps.gov/cabr or cabrilloeducation.com
---