Mental health program reinstated for frequent 9-1-1 callers
A new City-County partnership will increase staffing and capabilities for the Resource Access Program (RAP) — a mental health initiative with a track record of success in connecting frequent 9-1-1 callers to assistance and reducing the strain those callers put on the region's emergency response system.
RAP was formally established in 2010 and helps vulnerable individuals with complex medical and social difficulties who repeatedly call 9-1-1. Due to a lack of funding, the program had been operating in a reduced capacity since 2017, but was expanded in May 2019 with six additional positions and two designated vehicles to better connect with and transport clients.
"This program is exactly the type of proactive outreach that cities across the country should be doing," said Mayor Kevin Faulconer in a press release. "Using a data-driven approach, we are identifying those San Diegans who need specialized care and connecting them with the help they need so they don't have to call 9-1-1. It's a shining example of how the City and County can work together to find solutions to our region's mental health crisis."
RAP teams are overseen by the San Diego Fire-Rescue Department and consist of community paramedics paired with San Diego County Psychiatric Emergency Response Team (PERT) clinicians. RAP clients represent less than one percent of the total population, yet generate nearly 20 percent of 9-1-1 calls directed to emergency services. One such caller, Julie, was identified earlier this year as a top 10 user of the 9-1-1 system, calling the emergency line 60 to 70 times per year. RAP teams located Julie intoxicated on the beach and were able to help her get into a sobering center and placed into long-term treatment.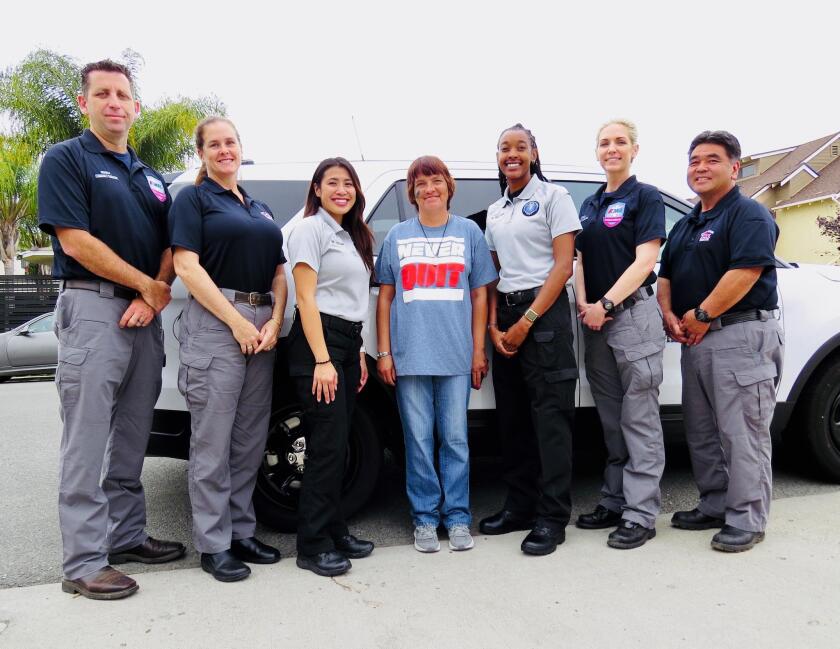 Registration underway for Osher program
UC San Diego's Osher Lifelong Learning Institute is offering its summer program for, according to marketing materials, "those over age 50 who thirst for knowledge in a relaxed, friendly environment."
Featuring twice-daily lectures and seminars, the program includes offerings on international relations, ethics in science and technology, medicine, music, history, law and society, and the humanities. There's also a lecture and performance series on Beethoven by concert pianist Gustavo Romero, a lecture series on Silk Road architecture by architectural historian Diane Kane, and an analysis of the current Supreme Court by constitutional law professor Glenn Smith.
The first lecture for the summer quarter is 10 a.m. Monday, July 8 on the Extension Campus, 9600 N. Torrey Pines Road. To register for classes, visit olli.ucsd.edu or call (858) 534-3409.
Madrid apartment building sells for $7M
The Madrid, an apartment community at 1530 Chalcedony in Pacific Beach, has been purchased for $7 million. The seller was the Estate of Allen Carl Weiss. The buyer was MR Metro Group, LLC, with managing member Roberto Walz. Kidder Mathews' multifamily brokers, Jim Neil, Eric Comer, and Merrick Matricardi represented the seller in the transaction.
The 19-unit apartment building includes a mix of large one-bedroom and two-bedroom, two-bath floor plans. It was built in 1969 and is in its original form.
Barnard students take top honors at national chess tournament
Barnard Mandarin Magnet Elementary School's chess team won first place in their age division at the 2019 National Elementary Championship in Nashville, Tennessee on May 11. Barnard's four-student chess team finished in three of the top four places in individual standings, including first place. The event, hosted by the United States Chess Federation, is one of the largest youth tournaments in the nation with more than 2,000 participants.
Barnard third-grader, Giuseppe M., finished first in individual standings. Third-grader Jayan F. and second-graders Nathan C. and Evan M. also had impressive performances that earned their team the first place trophy in the kindergarten to third grade unrated section competition.
This was the first national tournament for all members on the Barnard team. The event included a total of seven rounds over three days. Many matches lasted more than an hour.
The team trained for the past 10 months in an afterschool program run by coach Martin Nilsson of Chess Minds in Motion.
The students' grit and determination paid off in the end as the team won by a total of 1.5 points.
"I love chess because it challenges me to think," said Giuseppe. "During the matches, I had to think about every move to make sure my King was safe and that no checkmate could happen.
"After we all won, it was fun to celebrate with my teammates." —sandiegounified.org/barnard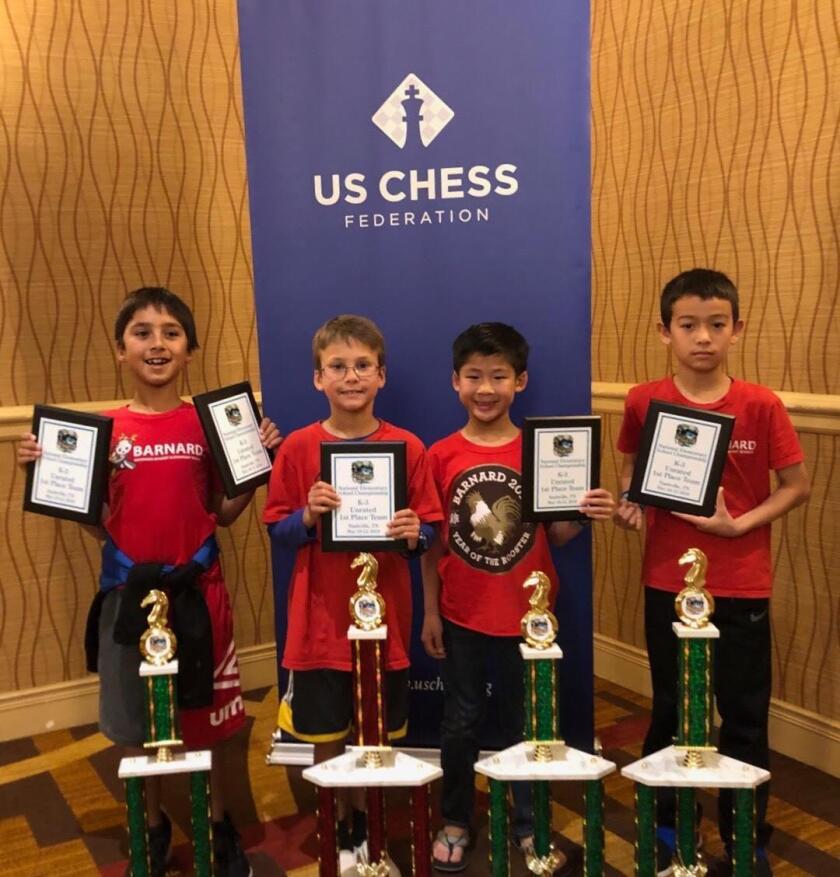 Sharp to offer lecture about opiods, July 10
Receive information about mental health and opioid addiction at a free lecture, noon to 1 p.m. Wednesday, July 10, in the Community Room at Pacific Beach Library, 4275 Cass St. Register at sharp.com/citywellness
Filing period opens for disputing tax assessments
San Diego County residents and businesses who disagree with their property tax assessments for the 2019-2020 fiscal year may file an application to appeal the value between July 2 and Dec. 2.
The fiscal year runs from July 1, 2019 through June 30, 2020.
Applications and information booklets are available on the County's website at sandiegocounty.gov/cob/aab
Residents may also pick them up and speak with staff at the Clerk of the Board's office in the County Administration Center, 1600 Pacific Highway, Lower Level Bayside Room.
Those filing an appeal will need to provide their parcel or tax bill number, property address, and must also state their opinion of the property's market value. Applications must be received by the Clerk of the Board of Supervisors Office no later than 5 p.m. on Dec. 2, 2019 or be postmarked by midnight of Dec. 2, 2019.
Applications and forms can be mailed to: Clerk of the Board of Supervisors, Assessment Appeals, 1600 Pacific Highway, Room 402, San Diego, CA 92101-2471. Watch a video on the appeals process: youtu.be/kL9KP6bZYwY
Coldwell Banker Residential Brokerage remodels PB office
Coldwell Banker Residential Brokerage celebrated the opening of its recently remodeled Pacific Beach office at 4090 Mission Blvd. At the event, more than 100 community members partook of refreshments from Rotisserie Affair Catering, listened to live music, entered opportunity drawings, toured the office and met the team of agents.
Said Brad Pearson, regional vice president: "It was courageous for us to move toward what we would consider the office of the future, but more importantly what we have here is a community of incredible professionals, a positive environment and a beautiful office." —coldwellbankerhomes.com
—Compiled by Savanah Duffy from local reports
---