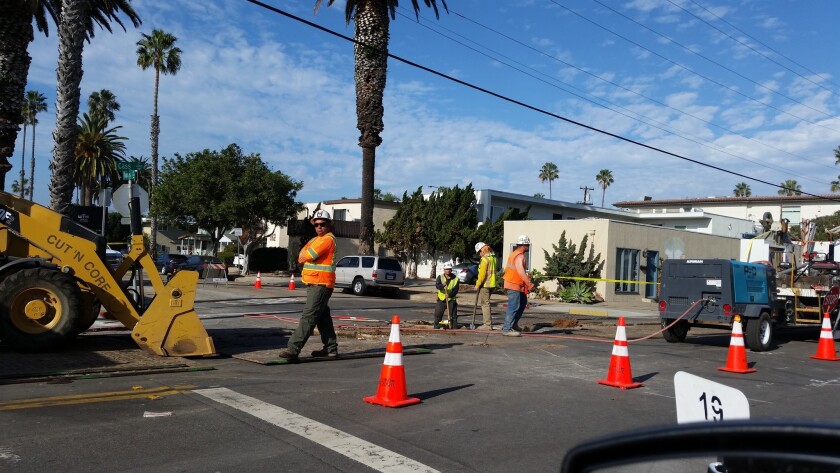 These days, navigating the streets in Pacific Beach means dealing with road blocks, backhoe loaders, bulldozers and construction workers onsite for our portion of the City of San Diego Utilities Undergrounding Program. (Which, by the way, was initiated in 1967 to provide residents with "clearer views and more reliable utilities.")
The longsuffering endeavor is being administered by the Transportation & Stormwater Department, whose staff is handling questions at (619) 533-3841 or undergrounding@sandiego.gov
To watch an 18-minute video that provides an overview of the undergrounding process, visit sandiego.gov/undergrounding
Project manager Breanne Busby told PB Monthly that currently, PB has three sections in progress. In Phase 1 are Cass Street from Grand Avenue to Pacific Beach Drive (status: just beginning) and Mission Boulevard from Loring to Turquoise (status: 90 percent done); and in Phase 3, Fanuel from Grand Avenue to Pacific Beach Drive (status: could be finished by the end of the year).
In other civic news ... District 2 City Council member Lorie Zapf will host a State of the District event, 6 p.m. Thursday, Jan. 25 at Mission Bay High School, 2475 Grand Ave. Zapf will make remarks and honor community volunteers, groups will have tables to promote their organizations and refreshments will be served.
On Saturday, Jan. 20 at the Mission Bay Yacht Club, the Pacific Beach Town Council Board of Directors will hold its annual Installation Dinner beginning at 5 p.m. Purchase tickets for $35 online at pbtowncouncil.org by Jan. 17, or buy at the door for $40.
In closing, know that you're reading the sixth issue of PB Monthly, brought to you by The San Diego Union-Tribune Community Press and delivered free to your mailbox. In case you miss a copy, we've got newsstands around town and drop-off extras at the PB Library. (Find a list of locations on Page 22.)
In this issue, we launch the New Year with health and wellness features, and call your attention to the many free exercise classes at the PB Library, chronicled in the calendar on Pages 16-17.
Please don't hesitate to reach out with story ideas and comments at (858) 875-5950 or pbmonthly@tronc.com
Happy New Year!
Susan DeMaggio, Editor
---