Pacific Beach's 13th annual graffiti cleanup leads to removal of over 730 tags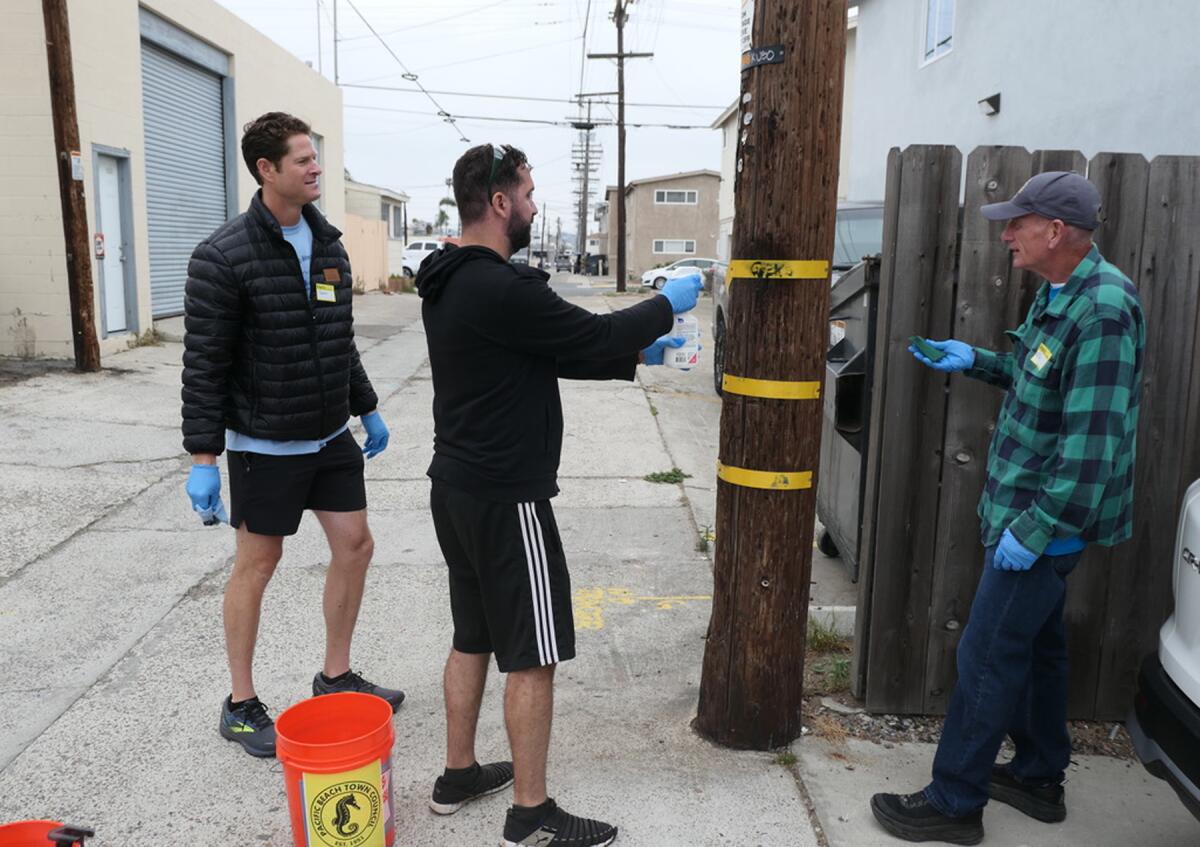 When it comes to graffiti, there can be a fine line between art and vandalism.
Volunteers at the 13th annual Graffiti Cleanup in Pacific Beach on May 13 were provided clear direction on what needed to be scrubbed clean, ensuring the beautiful murals and unique artwork found around PB would remain.
The event was organized by the Pacific Beach Town Council, with the goal of beautifying the community. Turn-out was the largest it's been in recent years, organizers said, with 129 volunteers who collectively removed more than 730 graffiti tags and stickers.
For comparison, last year there were 87 volunteers who removed over 600 tags.
The mood was lively when the three-hour event began at 9 a.m. outside Pacific Beach Presbyterian Church. Once participants were divided into groups, they were provided a map showing their assigned area to clean and where identified graffiti marking were located. Following a quick training by Stoner Inc. employees on how to use the cleaning products they manufacture and their company had donated, teams were dispatched throughout the community.
Jim Menders, dubbed the "graffiti grandfather," led the pre-cleanup efforts, said Jaden Ballardo, the council's communications chair. Menders organized volunteer surveyors who located high-volume graffiti and stickers on utility poles, sidewalks, public buildings and other places around Pacific Beach. Menders then mapped their locations and outlined sections for each team of volunteers to cover.
The pre-event survey "takes out the guess-work" for the volunteers, since they had a physical map and QR code showing all the graffiti locations in Google Maps, Ballardo said.
Additional PB cleanup events
The PB Town Council holds a cleanup every second Saturday at varying locations. For details, visit pbtowncouncil.org.


This summer Pacific Beach Presbyterian Church is holding Street-to-Beach cleanups on June 24, July 22 and Aug. 26. For details, email church@pbpres.org.
Volunteers ranged from youths to adults, church groups to a law firm hosting a retreat in San Diego. People of all backgrounds appeared excited and happy to help beautify the neighborhood.
"PB Town Council brings everyone from different groups together. ... we can provide the space ... make sure all ... voices are being heard," said Trisha Goolsby, the council's membership chair. With Pacific Beach's diversity and large size, Goolsby said the council looks for ways to bring the community together.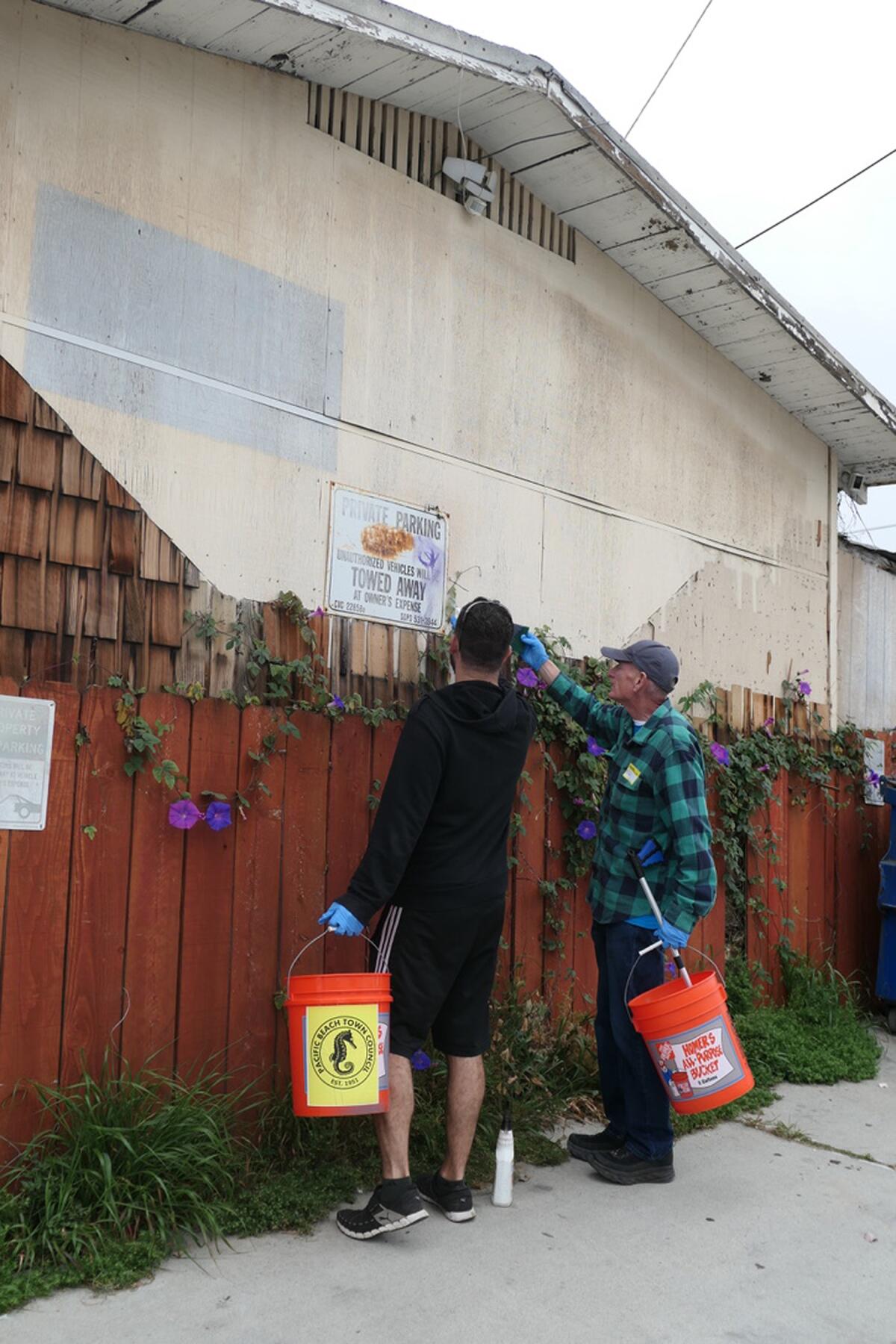 Council President Charlie Nieto said he designed the event's stickers, shirts and flyers.
The council's recruitment efforts included giving a presentation about graffiti to those at Mission Bay High School. Nieto said he was happy to see teachers and students from Mission Bay High among the volunteers.
"There's a lot of people who don't know who we are and what we do," Nieto said regarding the council, adding he would like to bring events like these to the "next level."
"We are trying to gain some momentum," he explained.
The participants seemed to enjoy scrubbing graffiti off various surfaces around PB. The maps ensured teams could work efficiently, tallying the number of graffiti markings they were able to scrub off. Occasionally, volunteers found graffiti not on the map and had to decide if it warranted removal. They said their decisions always came down to whether what they found adds beauty or was simply vandalism.
Once markings were found, volunteers determined which Mötsenböcker's Lift Off cleaning product was right for the job, then with gloved hands and some muscle scrubbed off the paint. Some participants said it was a good workout. Others noted how satisfying it was to erase such a blight on the infrastructure that people pass by each day.