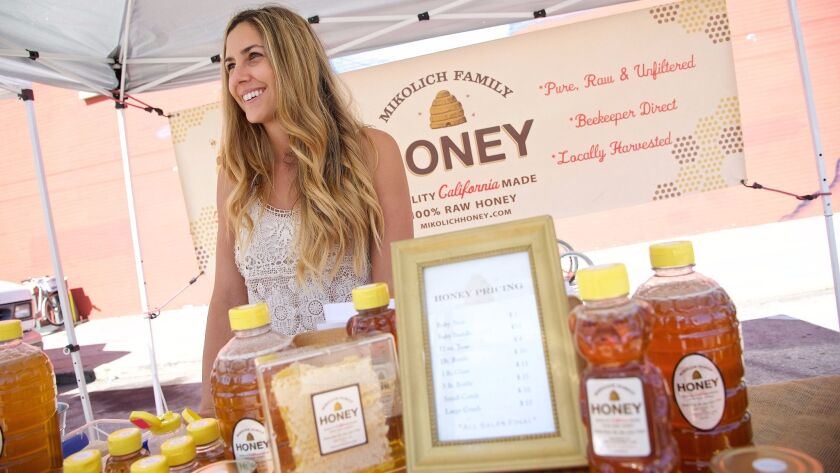 36th annual PAESAN Picnic: 4:30-6:30 p.m. Wednesday, Sept. 27, Crown Point Shores Pavilion, 3700 Corona Oriente Road. Each year the Pacific Beach Town Council holds a Police and Emergency Services Appreciation Night (P.A.E.S.A.N.) honoring SDPD Northern Division, Station 21 of San Diego Fire & Rescue, the San Diego Lifeguards and the Mission Bay Park Rangers. "This is our way of saying 'Thanks for a job well done,' " according to organizers. Each emergency service provider will present an award to an individual in their department, and this year, the PB Town Council will present items from the San Diego Lifeguards' Wish List.
There will be a barbecue dinner provided by O.M.B.A.C., Sprouts, Trader Joe's, PB Woman's Club, American Legion PB Post and the PB Town Council.
Tickets: $5 for adults, free to ages 12 or younger at pbtowncouncil.org. To become a sponsor or order will-call tickets, call the PBTC office at (858) 483-6666.
Walk to End Alzheimer's: Registration 8:30 a.m. Ceremony 9:30 a.m. Walk 10 a.m. Sept. 9 Misson Bay/Crown Point. There is no registration fee, but every walker is asked to make a donation to assist the more than 55,000 residents living with Alzheimer's in San Diego. (619) 329-1308. act.alz.org
Heart of PB Restaurant Walk: 4-9 p.m. Wednesday, Sept. 13, hosted by Discover Pacific Beach. Attendees will embark on a leisurely stroll between Dawes and Lamont Streets to sample a variety of menus from restaurants along the way. Tickets: $25. (858) 273-3303, pacificbeach.org
Pacific Beach Farmers Market: 2-7 p.m. Tuesdays, along Bayard Street off Garnet Street.
Organic Famers Market: 8 a.m. to noon, Saturdays at Pacific Promenade.
Town Council Dine Out Event: 5:30-7 p.m. Tuesday, Sept. 26, Patio on Lamont. Join Council and community members and guests for an evening of dining and socializing to support local restaurants. RSVP: (858) 483-6666, General@PBTownCouncil.org, pbtowncouncil.org
PB Town Council Meeting: 6:30-8 p.m., Sept. 20, Crown Point Jr. Music Academy, 4033 Ingraham St. Chance to hear reports and ask questions of city, county, state and federal reps. (858) 483-6666. pbtowncouncil.org
PB Parking & Traffic Advisory Board Meeting: 6-7 p.m. Sept. 14, Discover Pacific Beach offices, 1503 Garnet Ave. (858) 273-3303, pacificbeach.org
PB Planning Group: 6:30-8:30 p.m. Sept. 27, PB Library, 4275 Cass St.
Clean & Safe committee: 2-3 p.m. Sept. 20, Discover Pacific Beach offices, 1503 Garnet Ave. (858) 273-3303, pacificbeach.org
Co-Ed Volleyball: A and B Leagues, 6-8:45 p.m. Thursdays, Pacific Beach Recreation Center, 1405 Diamond St. Cost: $280 per team/season. For details, contact Farid Karimi (858) 573-0721. sandiego.gov
Kids Art Class: For ages 4-9, 12:30-1:30 p.m. days TBD, Pacific Beach Recreation Center, 1405 Diamond St. Once a week, the class focuses on a particular art style. Students create a final project at the end of each month. Free. (858) 581-9927. sandiego.gov
Pacific Beach Library: Offers informative programs for all ages. Youth Programs include multiple weekly storytimes, visits by entertainers, a monthly teen book discussion group. Hours: 9:30 a.m. to 6 p.m. Monday, Thursday; 11:30 a.m. to 8 p.m. Tuesday, Wednesday; 9:30 a.m. to 6 p.m. Friday, Saturday; 12:30-5 p.m. Sunday, 4275 Cass St. (858) 581-9934.
Pacific Beach Kiwanis Club: meets 7:20 a.m., for breakfast Thursdays at the Broken Yolk Café on Garnet Avenue. For more information, call (619) 804-4917.
Pacific Beach Women's Club: 11 a.m. Saturday, Sept. 9, prospective members' potluck, 1721 Hornblend St. (858) 882-7729. pacificbeachwc@gmail.com
Pacific Beach Toastmasters: Meets 6:30-8 p.m., Tuesdays at 1405 Diamond St. Whether you're looking to improve your public speaking skills, practice giving presentations, or just become more confident in front of an audience, Toastmasters provides a supportive, structured environment to help you along your path. pbtoastmasters.com
SAVE THE DATE
20th annual Pacific Beachfest, all-day, Saturday, Oct. 7 along the boardwalk, a family-friendly, music-packed event. More details at pacificbeachfest.org
— To submit a community event for the What's Happening monthly calendar, e-mail details to editor@lajollalight.com and the deadline is the 15th of the preceding month. Questions? Call (858) 875-5950.
---