What to eat, see and sip at Disney's 2018 Food & Wine Festival
Anaheim —
When Disney California Adventure theme park opened in Anaheim in 2001, its design concept was inspired by the landscape, landmarks and history of the Golden State.
Over the years, many of those Cali-centric elements have been re-themed for Disney films and characters. But one state-themed focus has only grown in the park's annual Disney California Adventure Food & Wine Festival, which opened Friday and continues through April 12.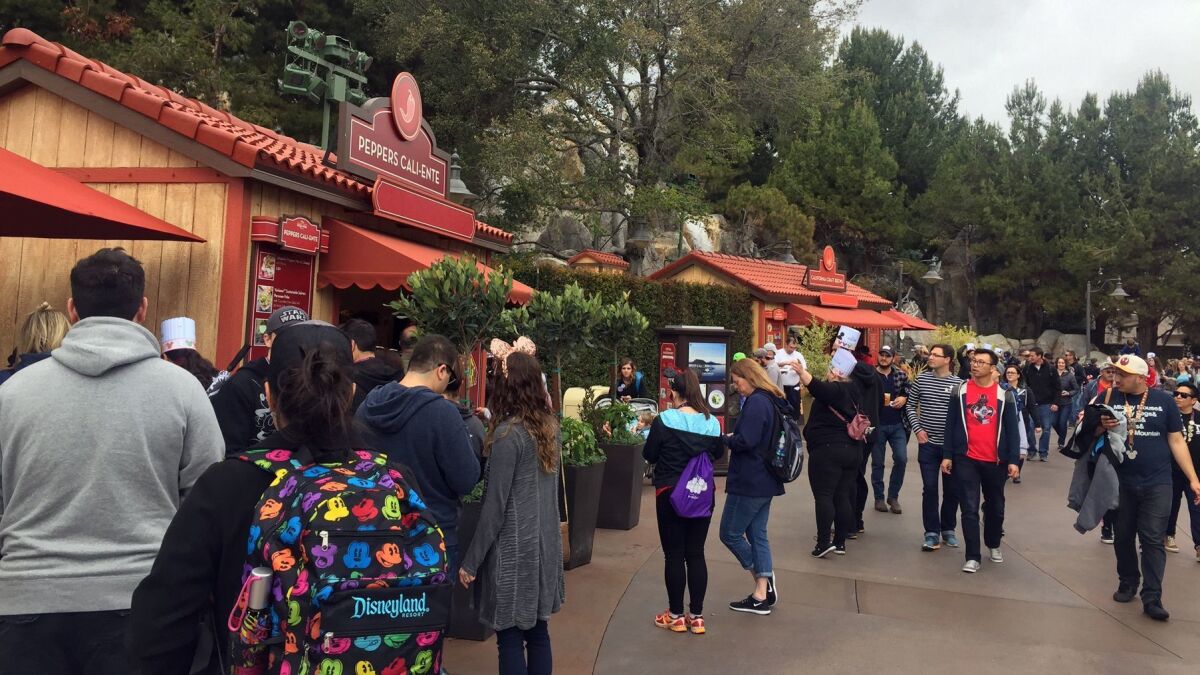 The six-week festival lavishly celebrates California's prime agricultural crops, its wines, its beers, its artisan foodmakers and some of its most famous chefs. And that celebration includes many San Diego names.
Local chef Brian Malarkey (Herb & Wood in Little Italy) hosted a free cooking class on Friday evening, and coming up on March 17, two other local resident chefs will do free classes, "MasterChef" winner Claudia Sandoval at 4 p.m. and "Top Chef All-Stars" winner Richard Blais at 6 p.m.
San Diego beermakers are also in the mix. Karl Strauss Brewing, Stone Brewing, Mission Brewing and Ballast Point are featured in a beer garden, at tasting seminars and on tap. And Karl Strauss brewmaster Matt Johnson will host the festival's only Brewmaster Beer Dinner on March 8 at Steakhouse 55 ($150). There are also a handful of Temecula breweries featured this year.
The festival arrives at a good time for Disney California Adventure. Much of its Paradise Pier area is closed for a major revamp. The former Paradise Pier — built to resemble the seaside amusement parks that dotted California's coastline in the 1920s (like San Diego's still-running Belmont Park) — will reopen June 23 as Pixar Pier. Normally a major closure might dampen attendance, but on Friday the park was packed with food and wine festival-goers.
The main attraction is the Festival Marketplace, a series of 11 food booths that stretch along the park's parade route and in the Hollywood Backlot area. Park-goers can purchase a $45 "sip and savor" lanyard that entitles them to eight food and drink items (not including alcohol), or they can just browse and buy as they go. There are also booths for California beers and wines, and themed cocktails can be found at most of the marketplace shops.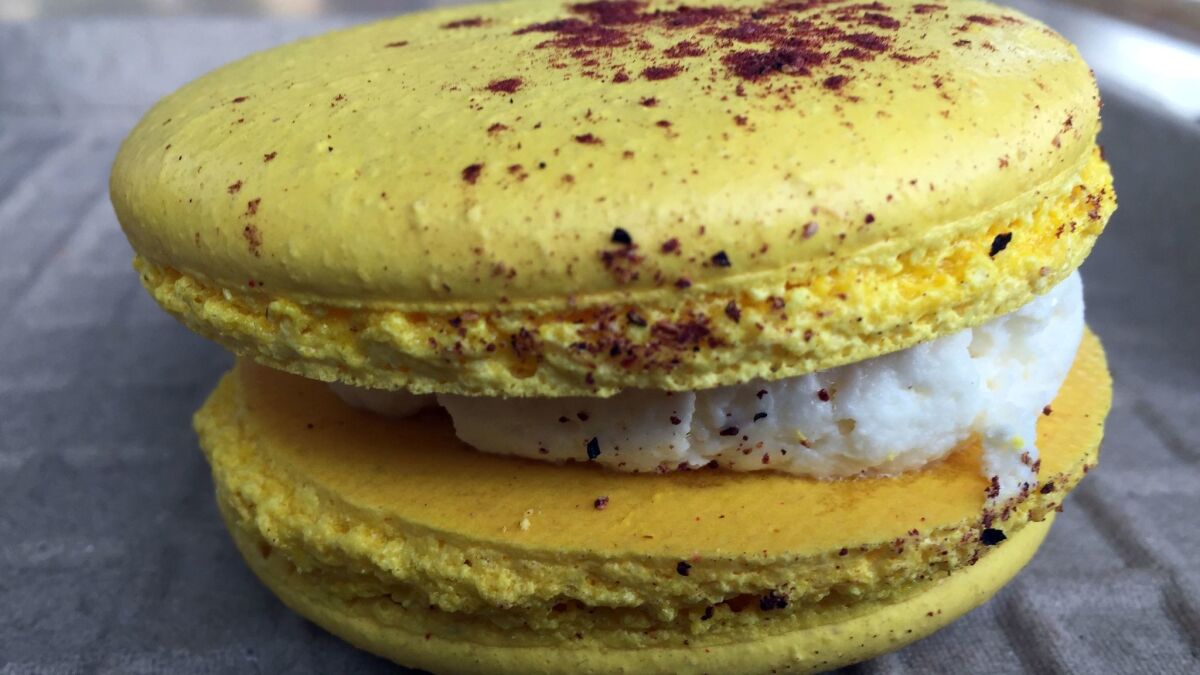 The food items range from $4 to $8 and wines, beers and cocktails are $7 to $12.50. Park admission is not included in the price. Each booth focuses on a different California crop or product, like avocados, artichokes, citrus fruits, corn, peppers, cheese and nuts, and hoofed stock (dairy, beef and chicken). We sampled a number of this year's menu items and our top picks can be found at the end of this article.
Free cooking classes take place several times a day. Out near Paradise Pier, celebrity chefs offer classes geared for grown-ups. Anyone can watch, but the $30 VIP deal includes a reserved seat, meet-and-greet with the chef and tasting of the food prepared onstage.
Families may prefer the classes at the Hollywood Backlot stage, where chefs offer simple recipes for children, and usually bring one child up onstage to help, as well as tips on preparing some of the fest dishes at home.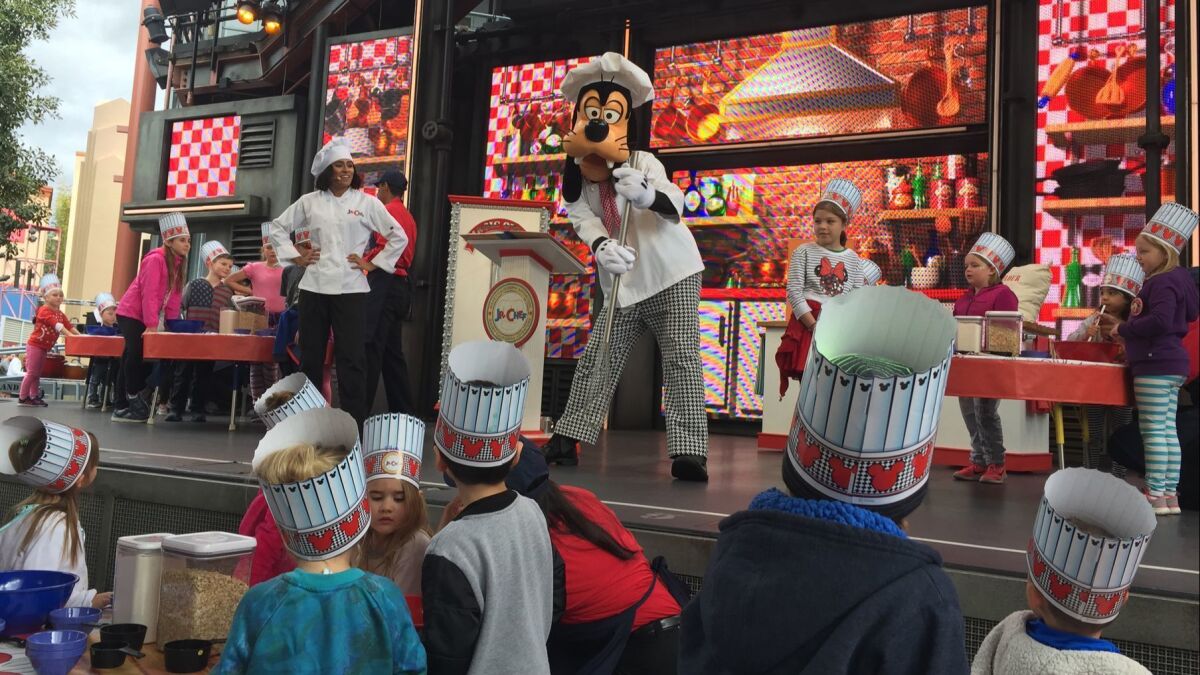 The most popular draw is the Junior Chef experience for children aged 3 to 11. A half-hour before the daily class, up to 55 children can sign up to make oatmeal raisin cookies with Goofy. It's free and first-come, first serve. Class times vary, but they're usually held three to four times a day, beginning at 12:45 p.m.
Back again are two of the festival's top draws, Food Network star chefs Guy Fieri and Robert Irvine. Fieri, host of "Diners, Drive-Ins & Dives," appears at 8 p.m. March 9. Irvine, host of "Dinner: Impossible," will speak at 8 p.m. March 30. Their events at the Hyperion Theatre are $99 each and require reservations.
For complete details, schedules and reservations, visit the Disney California Adventure festival website (disneyland.disney.go.com/events-tours/disney-california-adventure/food-and-wine-festival/).
Now on to the good stuff. We visited all of the Festival Marketplace booths to find the best bite at each stop. Here are our picks:
Strawberry Patch: The Watsonville strawberry pie is tasty but difficult to eat without a mess. Instead, try the Strawberry Pineapple Flight with Strawberry Popping Pearls, a tall, refreshing fruity drink for all ages ($6).
Avocado Time: Take our word for it and try the shwarma-style spiced Oumph! with avo hummus and garlic sauce ($6). This veggie protein tastes just like chicken. And despite how it sounds, the avocado ice cream bar ($4.50) is surprisingly sweet and flavorful.
Eat Your Greens: Surely the booth with the shortest lines Friday, but it shouldn't be. This vegetarian-friendly booth has a tasty and light grilled asparagus caesar salad ($5.50) and a surprising beet kombucha sangria ($9).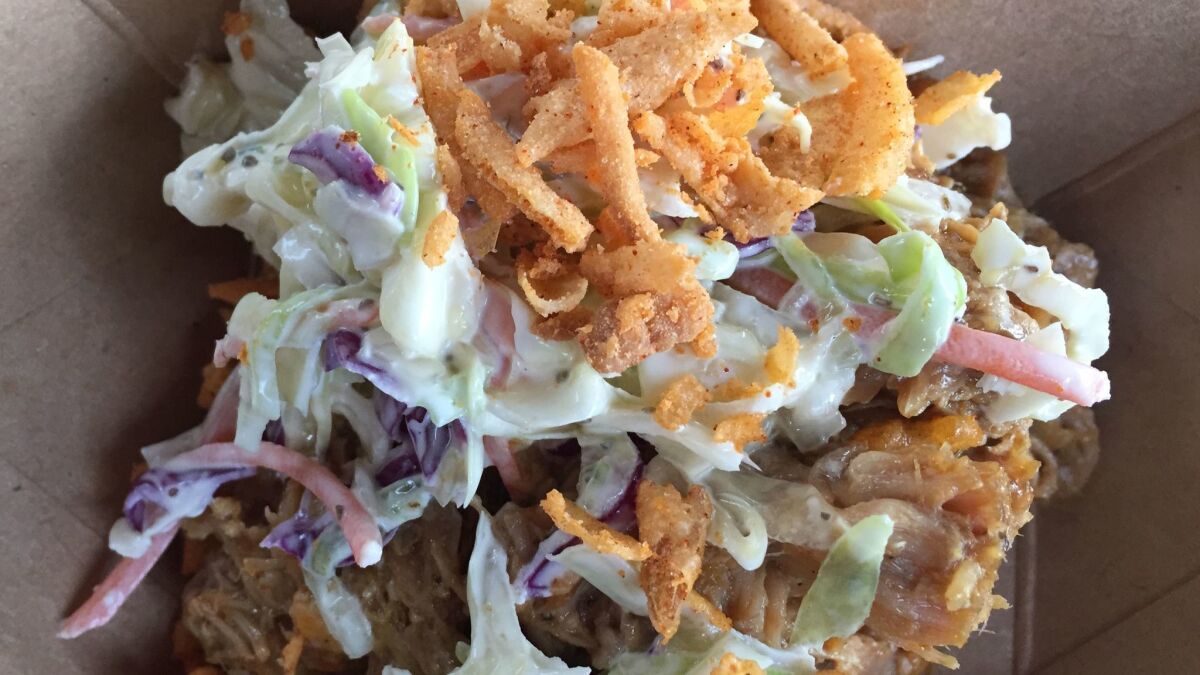 Citrus Grove: Go straight to dessert for the epically large Meyer lemon macaron ($4.75) which explodes with tangy flavor and has a hidden raspberry surprise in the middle. And if you're hungry, the citrus-braised pork roast (think carnitas) with lemon-pepper slaw is a hearty portion for the price ($7).
I Heart Artichokes: Even if you don't heart 'chokes, you will like the savory fried artichoke carbonara with garlic aoli and bacon ($6). I have no idea how artichokes are incorporated into the bourbon chocolate whoopie pie, but the oversize, soft-textured cookie sandwich has a bourbon kick with a nice touch of salt ($4.50).
Garlic Kissed: The fest's top-selling dish is the creamy mac-n-cheese with roasted garlic cream sauce and garlic bread crumble ($7). But my favorite dish at this booth is the black garlic and soy-braised pork belly banh mi sandwich ($7.50).
Peppers Cali-ente: The Verlasso sustainable salmon Peruvian poke dish with cucumber-lime salad ($7.50) is small but has a nice acid balance ($7.50). Don't miss the watermelon lemonade with chili lime dip on the rim. It's delicious. I drank two.
Off the Cob: If you're like me and find the park's oversize crisped-rice treats tasteless, then you'll like the caramel popcorn crispy treat ($4), a yummy caramel popcorn ball on a stick, dunked in milk chocolate and topped with crunchy corn bites.
Nuts about Cheese: If your appetite is light, the petite toasts and mimosa flights are a nice alternative to the heavier proteins and fried foods at the fest. The best is the goat cheese blanc tartine toast topped with sprigs of rosemary and hazelnuts ($4.50). You can buy a full-size pineapple, strawberry or raspberry mimosa for $14, or we recommend a tasting flight of all three for $16.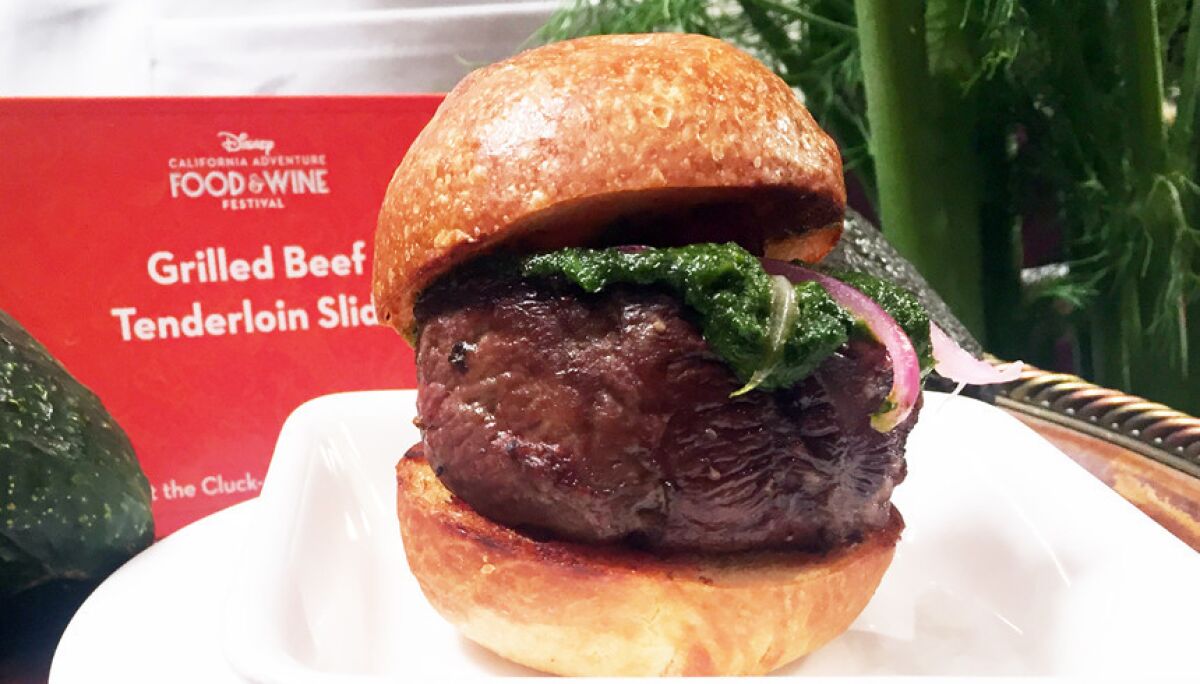 Cluck-A-Doodle-Moo: The most satisfying dish of the fest is the grilled Harris Ranch beef tenderloin slider with chimichurri sauce ($8). A thick cut of beef on bread can be dry and chewy, but the only downside of this tender, tasty sandwich is you'll want two … or three.
LAStyle: Last year's hit of the fest, the Korean BBQ beef short rib tacos, has returned and is drawing long lines. The seasoned beef strips are tender, slightly spicy and served with a pickled onion relish on corn tortillas ($7.50 for two).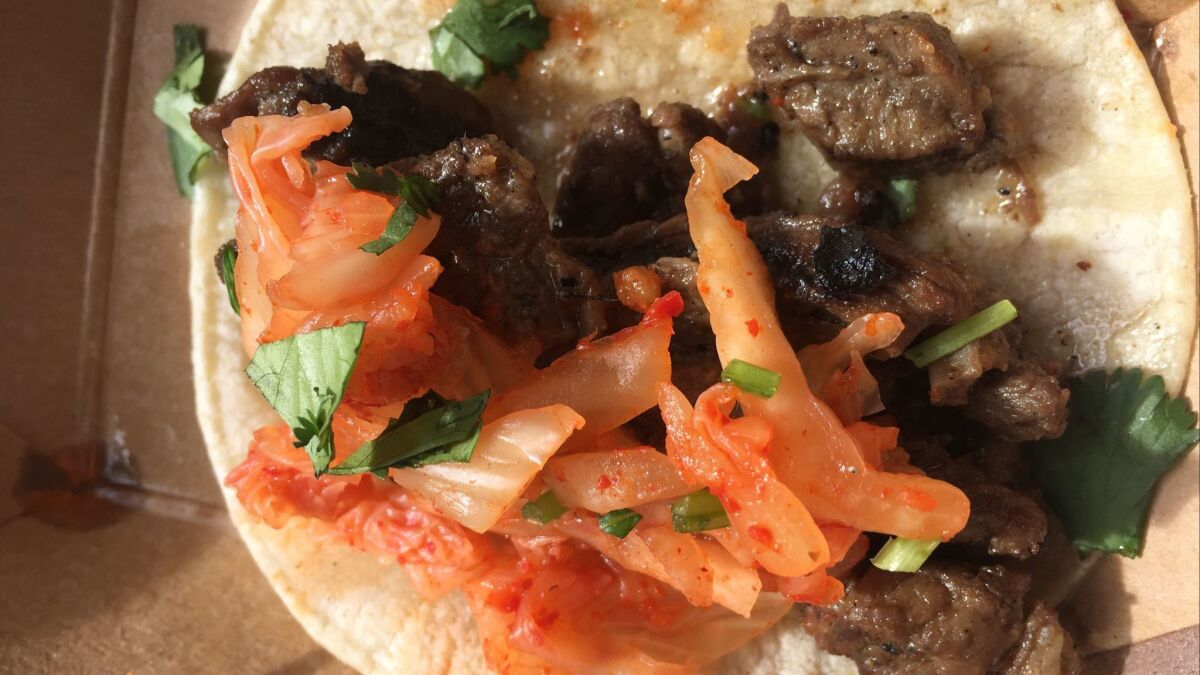 pam.kragen@sduniontribune.com. Twitter: @pamkragen